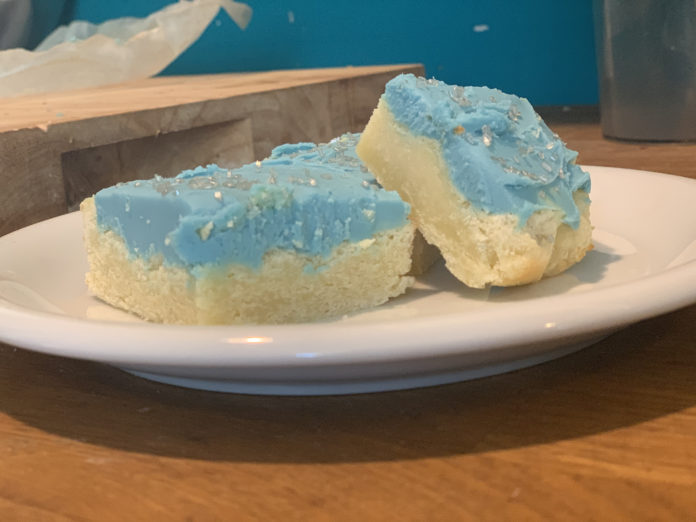 Ginger begins her sabbatical this week. She asked me to bake cookies for her staff meeting on Tuesday as a little going away present. This recipe had crossed my field of vision over the past couple of weeks, so her request gave me a chance to play with it a bit. Ginger loves a soft cookie, buttery icing, and pretty much anything lemon. When we lived in Durham, our friend Laura dubbed Ginger as "Sparkles," which led to Ginger's Instagram name, @sparklypastor, even though she is not on the app very much. A little blue food coloring to make a turquoise cookie (her signature color), some silver sparkles and I give you . . .
sparkly pastor bars
For the dough:
1 cup butter (2 sticks) at room temperature; plus 2 tablespoons for greasing the pan
2 3/4 cups (350 grams) all-purpose flour
1/2 teaspoon fine sea salt
8 ounces cream cheese, at room temperature
1 1/2 cups sugar
1 large egg
1 tablespoon lemon extract
For the frosting:
6 tablespoons (3/4 stick) at room temperature
2 cups confectioners' sugar
1 tablespoon milk or heavy cream
1 teaspoon fresh lemon juice
1 teaspoon lemon extract
1/4 teaspoon salt
a drop or two of gel food coloring (optional)
sprinkles (optional)
Preheat oven to 350°.
Lightly butter a 9-by-13-inch baking dish. (Mine is Pyrex; you may also use a metal one. Line the dish with parchment paper so that it is taller than the short sides by about two inches. This will let you pull the bars out when they cool.
Whisk flour and salt together in a medium bowl; set aside. Beat butter and cream cheese in a stand mixer on medium speed with the paddle attachment until well blended–about one minute. Scrape down the sides with a rubber spatula and add the sugar; beat the mixture until smooth–another minute or so. Add the egg and lemon extract and beat on low speed until well combined–that's right: about one minute. Scrape down the sides again. Gradually add the flour mixture, mixing on low speed just until blended–wait for it: about one minute.
Use the spatula to scrape the dough into the prepared baking dish and spread it into an even layer. I put a little butter or Pam on my hands and spread the dough out. Bake for 20-25 minutes, just until the edges are starting to turn light golden brown, and a toothpick inserted in the middle has moist crumbs. Let the toothpick be your guide more than the browned edges. This cookie should be soft and seem a little underbaked in the middle.
Take the dish out of the oven and set it on a wire rack. Let cool completely–probably an hour or so. When it is fully cooled, remove the bars from the pan using the overhanging parchment paper.
For the frosting, beat the butter in the bowl of a stand mixer on medium speed (using the paddle) until creamy–dare I say it: about one minute. Add one cup of the confectioners' sugar, and beat on low speed until fully combined; add the second cup and repeat . Add the tablespoon of milk or heavy cream, the teaspoon of lemon juice, the lemon extract, salt, and food coloring and beat on medium speed until the frosting is light and fluffy, scraping down the sides halfway through–about four minutes. Add a little more milk or cream if you need to thin out the mixture.
Spread the frosting on top with a spatula (I use an offset) and decorate with sprinkles. Cut into bars and serve. (I cut six by four.)
My Sparkly Pastor said these are the best cookies I ever made.
Peace,
Milton