My friend John moved to Okinawa for a year. He's on an academic sabbatical. He is also a master meat smoker. When he left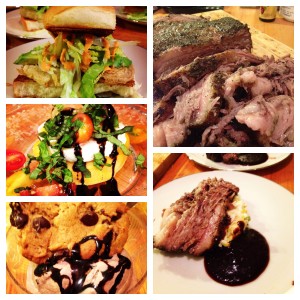 he gave me a whole frozen packer brisket, ready for me to try my hand at smoking it. My friend Roberto, who owns Old Havana Sandwich Shop along with his wife Elizabeth, may cook meat better than anyone I know. Between the tips I learned from the two of them, the brisket came out tasting really good.
You will notice in the links below I don't have a brisket recipe. That's because I'm still figuring it out. But what I did yesterday was rub the brisket with equal parts salt, pepper, and brown sugar. I preheated the smoker to 225˚ and put the meat in, keeping track of the internal temperature. When it reached 160˚, I wrapped the brisket in foil and lowered the smoker temp to 205˚ and let it cook several more hours until the internal temperature of the meat was about 195˚.
Then we cut it and ate it.
Here's the rest of what we had for dinner this past Thursday Night:
And it was good. Amen.
Peace,
Milton