For almost as many years as we have been married Thursday Night Dinner has been a significant ritual in our lives. We invite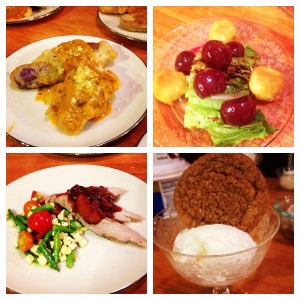 folks over for dinner, I cook, and then we sit around and talk until we get tired. Over the past couple of years, thanks to Facebook and Twitter and my iPhone camera, I've been able to share pictures of my food. I'm not sure why it took me so long to think of this, but one day this week it also dawned on me I could use this blog to share the recipes. I have a recipe blog where they will actually live, but I will print the menu here and link to all of them on one page.
I hope you enjoy them.
This week's menu:
beer battered fairy tale eggplant with summer peach marinara
baby beets, grilled romaine, and warm goat cheese croutons
roasted pork tenderloin with peach-fig compote and a summer salad of asparagus, corn, and cherry tomatoes with a basil vinaigrette
ginger molasses cookies with lemon buttermilk ice cream
Peace,
Milton
---
Also published on Medium.