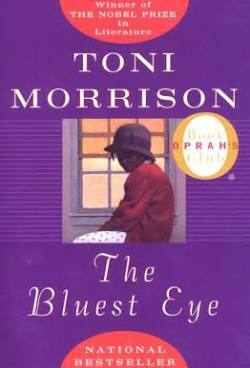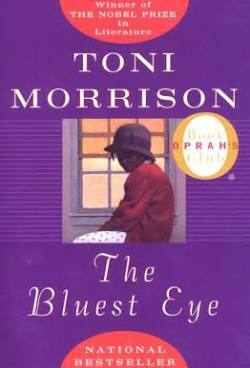 The first Toni Morrison book I ever read was her first book, The Bluest Eye, which tells the story of Pecola, a young African-American girl growing up in Lorain, Ohio in the 1940s. Because of her mannerisms and her dark skin, she is considered "ugly." She has a doll that is white. Pecola wishes she could have blue eyes like the doll. The story of the impact of her context, her self-loathing, and life as a poor black girl in 1040s Ohio is brutally truthful. Alongside of the power of the story is the power of the way Morrison works with words. The first two pages are a great example. The book opens with this paragraph:
Here is the house. It is green and white. It has a red door. It is very pretty. Here is the family. Mother, Father, Dick, and Jane live in the green-and-white house. They are very happy. See Jane. She has a red dress. She wants to play. Who will play with Jane? See the cat. It goes meow-meow. Come and play. Come play with Jane. The kitten will not play. See Mother. Mother is very nice. Mother, will you play with Jane? Mother laughs. Laugh, Mother, laugh. See Father. He is big and strong. Father, will you play with Jane? Father is smiling. Smile, Father, smile. See the dog. Bowwow goes the dog. Do you want to play with Jane? See the dog run. Run, dog, run. Look, look. Here comes a friend. The friend will play with Jane. They will play a good game. Play, Jane, play.
I was disoriented by what I read because I knew enough about the story to know that Dick and Jane had nothing to do with it. Why was I reading something that felt like a First Grade Primer. There are not any words longer than two syllables. The entire paragraph is made up simple sentences. I turned the page to read the same words again, except they looked like this:
Here is the house it is green and white it has a red door it is very pretty here is the family mother father dick and jane live in the green-and-white house they are very happy see jane she has a red dress she wants to play who will play with jane see the cat it goes meow-meow come and play come play with jane the kitten will not play see mother mother is very nice mother will you play with jane mother laughs laugh mother laugh see father he is big and strong father will you play with jane father is smiling smile father smile see the dog bowwow goes the dog do you want to play do you want to play with jane see the dog run run dog run look look here comes a friend the friend will play with jane they will play a good game play jane play
And then immediately came this version:
Hereisthehouseitisgreenandwhiteithasareddooritisverypretty hereisthefamilymotherfatherdickandjaneliveinthegreenandw hitehousetheyareveryhappyseejaneshehasareddressshewants toplaywhowillplaywithjaneseethecatitgoesmeowmeowcomea ndplaycomeplaywithjanethekittenwillnotplayseemothermoth erisverynicemotherwillyouplaywithjanemotherlaughslaughm otherlaughseefatherheisbigandstrongfatherwillyouplaywithja nefatherissmilingsmilefathersmileseethedogbowwowgoesthe dogdoyouwanttoplaydoyouwanttoplaywithjaneseethedogrun rundogrunlooklookherecomesafriendthefriendwillplaywithja netheywillplayagoodgameplayjaneplay
She had repeated the words three times. The first seemed "normal." The second, without punctuation or capitalization, felt poetic and perhaps a bit foreboding. The last, without spaces between the words, gave me a sinking feeling about where the story was going. Whatever happened, things were not going to end well.
And all she did was repeat herself using simple words.
I don't have a big point to make other than to say I have never forgotten these three paragraphs.
Peace,
Milton