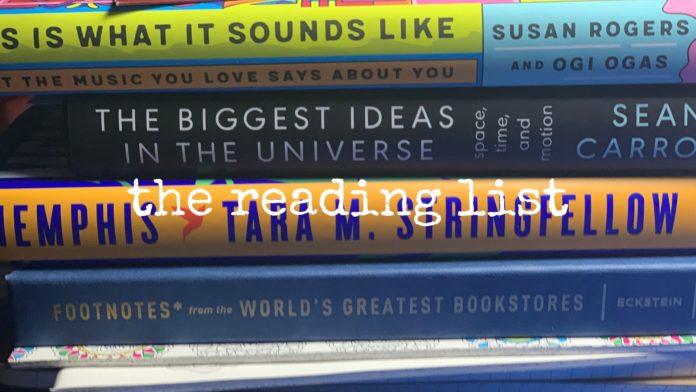 the reading list
I finished reading one of my Christmas books today: The Reading List by Sara Nisha
Adams. Ginger gave it to me because "it looked like I would like it." She was right.
The book centers around the relationship between two people: Mukesh, a widower who lives in West London and Aleisha, a student who has a job at the library for the summer holidays. She has her own grief because her mother is dealing with a severe mental illness. The other character is a reading list that Aleisha finds in a copy of To Kill a Mockingbird as she is puttin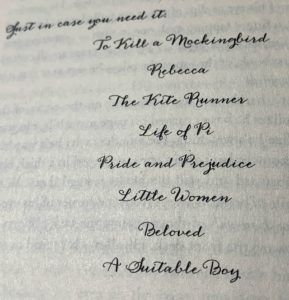 g books away. "Just in case you need it," the list begins and then names To Kill a Mockingbird, Rebecca, The Kite Runner, The Life of Pi, Pride and Prejudice, Little Women, Beloved, and A Suitable Boy. I should mention that The Time Traveler's Wife also plays a role in the book. (I should also say I have not read all of those and the novel still made sense.)
When Mukesh comes into the library looking for a book because he is trying to feel close to his wife who was a voracious reader, Aleisha gives him the first book on the list and also begins reading them herself. The circle of those involved in the story and affected by the books grows as the novel moves along and it is a wonderful journey.
One of the things that struck me was the was the characters' view of life and even themselves was affected, or even altered, by the book they were reading. Part of the story was what they began to notice because of what they were reading.
Besides inviting me into the lives of several folks I will miss now that I have finished the book, the novel made me think about what books have altered the way I look at the world. The short answer, I suppose, is all of them; isn't that the point of reading? Then I stepped back to think of novels, in particular–those stories that offer invitations into other worlds so we can get a better view of our own.
I decided to offer my own list tonight. In doing so, I am not claiming this to be a definitive list. These are the books that first came to mind. Also, I went with eight of them because that's how many were on the list in the book. Last, they are presented in the order they came to mind.
Just in case you need it:
Frankenstein
Mary Shelley was a teenager when she wrote the story in response to a challenge to write the scariest story she could think of. I loved reading it with students when I was a high school teacher. The narration moves from the sea captain so driven to prove himself that he gets his crew stuck in the ice to the doctor so driven to prove himself that he creates a being out of spare human parts to the creature who is desperate to get the approval of his creator, and then it moves back out again. I could talk about this story all day. And into the night. Bring whiskey.
Cry, the Beloved Country
This South African novel was written before apartheid took hold, but the structure was already there. Alan Paton, the author, was a white South African who was an activist and advocate for racial equality. The story is beautiful and heartbreaking. Stephen Kumalo, the pastor whose son is chewed up by the system, may be my favorite character in literature.
A Wrinkle in Time
Ms. Reedy, my fourth grade teacher, read this book to my fourth grade class in Lusaka, Zambia in 1964, a couple of years after it was published. It was the first time I knew that a book could change your life. I still read it from time to time. And Meg Murry is my second favorite character in literature.
Dinner at the Homesick Restaurant
This was the first Anne Tyler novel I read and I found myself in the story because it is about trying to find home. Ezra, a boy who grows up without a sense of home, opens a restaurant and cooks what others are homesick for, hoping to create the home he never knew. Gee, I wonder why this book stayed with me?
The Illusion of Separateness
Simon Van Booy's novel may be one of the most beautifully written books I have ever read. Some of the sentences are breathtaking. The story is one of connection where there seems to be none, as the title implies.
A Mapmaker's Dream
Fry Mauro is a monk in Venice who dreams of making a perfect map. The thing is, he never leaves his cell. He creates his map based on the stories travelers tell him as they come through town. The more he learns, however, shows him how much he doesn't know.
The Bluest Eye
Toni Morrison's novel is another I read with high school students. Pecola Breedlove is an eleven year old Black girl who prays for her eyes to turn blue so that she will be beautiful, so that she will be noticed, and so her world will be something other than it is.
A Prayer for Owen Meany
The first time I read John Irving's book, it was my subway book when I was on the T in Boston. I had to read it at home because I would get so involved that I missed my stops repeatedly. It is laugh out loud funny and ugly cry sad as well.
As I said, the list is not definitive nor exhaustive, but they are stories that have helped to shape me in various ways. I'd love to know what stories have shaped you.
Peace,
Milton