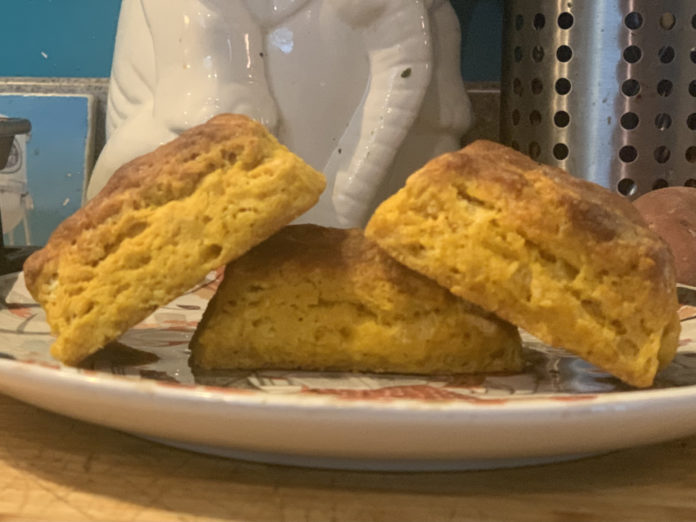 As you probably know, we are in the middle of a Nor'easter here in New England, and one that has lived up to the hype. Weather forecasters are notorious for saying things like, "We should expect 3-18 inches of snow this weekend," which isn't as much a forecast as a statement that feels better than saying, "We have no freaking idea how things are going to go."
The last couple of days have been days of preparation. I managed to get to the grocery store on Thursday so I didn't have to face the lines that I am sure were there yesterday. I spent Friday emptying trash cans and bringing in firewood so we could keep the house warm if the power went out. It has not and we are grateful. As we were moving the last of the Christmas decorations out of the living room and back to the storage room in the barn, Rachel, my mother-in-law, said, "Since it's going to snow, can we have sweet potato biscuits?"
The answer to that question is always, "Yes."
I set an early alarm most every morning so I have time to do my Morning Pages, read a bit, and have a cup of coffee before the rest of the house starts stirring. Lila, our middle Schnauzer, usually comes down as well because she needs to go out and she's ready for a snack. Since the snow started soon after midnight, I added shoveling enough of the patio to create a path into the yard for her and her sisters to my morning duties. Then I started on the biscuits.
If you look at the list on ingredients below, you can see that it doesn't look complicated, but making a good biscuit is not an easy thing. It takes a lot of practice. I learned that lesson when we moved to Durham and I started cooking at Watts Grocery. The first thing I learned was to keep the ingredients cold. In the summer, the guy who made the dough did the whole thing in the walk-in refrigerator. The second thing was to not over-mix the batter. And then not to over-handle it when you're cutting them. And then to brush the tops with butter AFTER they come out of the oven. (It also helps to work alongside of Mike Hacker (of Pie Pushers fame) who is the Biscuit King as far as I am concerned–and I am not alone in that opinion.) And then you make them over and over until you feel like you know what you are doing. It took me five years before I felt confident in saying I knew how to make a good biscuit.
I don't remember when I first came across the recipe for Sweet Potato Biscuits, but I have had it for years. They never turned out quite right to me, even though they always tasted good. During the pandemic I have made them more often and played around a bit with the ingredients. The recipe below is one I am happy with. The biggest variable is the amount of buttermilk. Since I don't use canned sweet potato, the amount of potato meat that goes into the batter is not exact. My old recipe had 2/3 of a cup of buttermilk and it was too wet, so I moved to 1/2 a cup. Sometimes I add a bit more if it is dry, but that doesn't happen often.
These are good for both sweet and savory. They make a good breakfast with a little butter and jam (or syrup) and they are great alongside a bowl of soup for lunch or dinner. They are also pretty good by themselves if you happen to walk by the bread box in the middle of the afternoon.
I think I will go get one now.
sweet potato biscuits
3 1/2 cups all purpose flour (490 grams0
4 teaspoons brown sugar
5 teaspoons baking powder
1 teaspoon baking soda
1 teaspoon salt
12 tablespoons cold unsalted butter (1 1/2 sticks)
15 ounces sweet baked sweet potatoes (2 medium potatoes)
(or one 15 oz. can of sweet potato puree)
1/2 cup buttermilk
2 tablespoons butter, melted
To bake the sweet potatoes: Put them on a baking sheet lined with parchment paper and bake in a 375° oven for about 50 minutes. Remove from oven and let cool. Pull off the peel and you're all set. (I tend to keep three or four sweet potatoes in my pantry. When I know I want to make biscuits, I put them in the oven and set the cook timer for 50 minutes–because that timer will turn off the oven–and then let them bake while I sleep. When I come down in the morning, I just have to peel them and make the biscuits.)
Preheat the oven to 425°.
Mix the dry ingredients well. Cut the butter into small cubes and add to dry mix. I use a pastry cutter to incorporate the butter so it stays cold. Keep cutting until it feels like coarse sand. If you have a few larger chunks of butter, that's okay. Add sweet potato and work the dough with your hands to incorporate it well. Then add the buttermilk and stir with a spatula until the dough comes together.
Move it to a floured surface and roll or shape it into a rectangle that is about a half an inch thick. Cut the biscuits into squares (I cut mine into 20 biscuits) and move them to a parchment lined baking sheet with a little room in between each one. Bake for 20-22 minutes. They should be golden brown. Remove from the oven and brush the tops with the melted butter.
Stay warm.
Peace,
Milton