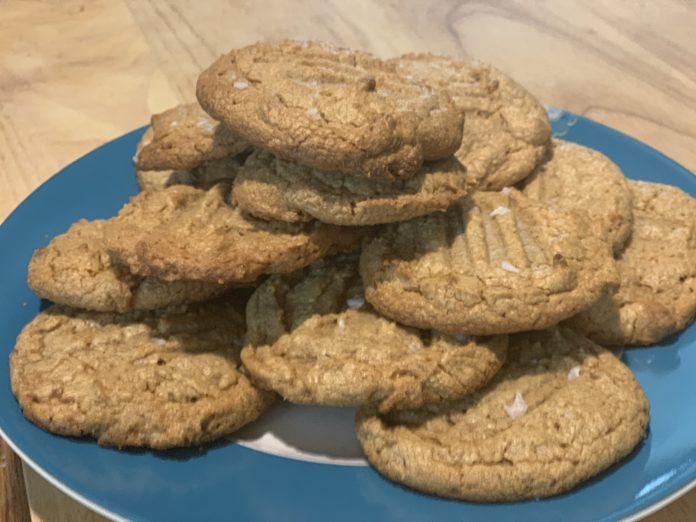 Ginger and I celebrated the thirty-second anniversary of our first meeting this week. Not too long after that, she came over to my apartment for dinner and I had made peanut butter cookies—my mom's recipe. I offered her one and she said, "You can make these?"
I assured her the Nutter Butter people weren't the ones who invented the peanut butter cookie.
Though my Peanut Butter Chocolate Chip Sriracha Cookies were a favorite back in my Milton's Famous days, I have hunted for a while for a good peanut butter cookie, particularly because Ginger is quite specific about the kind of peanut butter cookie she likes—done, but still soft. After searching and reading, this link led me to this version of the recipe. (The original is here.)
As you will notice, these beauties are gluten-free and dairy-free without trying to be either. And they come together easily—you don't even need to use your mixer; it all happens in one bowl.
salted peanut butter cookies
1 3/4 cups packed light brown sugar
2 large eggs, at room temperature
1/2 teaspoon vanilla extract
1 16 oz. jar of Skippy peanut butter (approximately 1 3/4 cups)
Maldon sea salt
In a medium bowl, whisk the brown sugar and eggs until they are well mixed and the mixture doesn't look grainy; then whisk in the vanilla extract. Add the peanut butter and mix everything with a spatula until the mixture is smooth and you don't see any streams of peanut butter. It will sort of have the consistency of Play-Doh; if you are used to baking cookies, this batter will seem a little soft. I usually let it sit in the refrigerator for about thirty minutes before I scoop the cookies. You can also put them in the freezer for fifteen or so.
Preheat the oven to 350°. Line two rimmed baking sheets with parchment paper.
Using a scoop or a spoon, form the dough into 18 two-ounce balls (I have a two-ounce scoop) and place them on the baking sheet, twelve to a sheet. Again, if you put them in the fridge or the freezer for a bit they will firm up. If you want the traditional fork lines, do that now, but don't press them down too much. Sprinkle the tops of the cookies with the sea salt; be generous—there's no other salt in the batter. Bake for 20 minutes. I bake two sheets at once, so after ten minutes, I rotate the sheet pans and switch their locations. When finished, the cookies will be lightly golden and cracked on top. Let them cool completely before serving.
NOTE: I said Skippy because the standard brands work better for this cookie than freshly ground or natural peanut butter and, because of Bruno Mars, we're Skippy fans. If you prefer Jif, that will work as well.
It's cold here in Connecticut and we're hunkered down. I hope there are cookies in your weekend plans.
Peace,
Milton