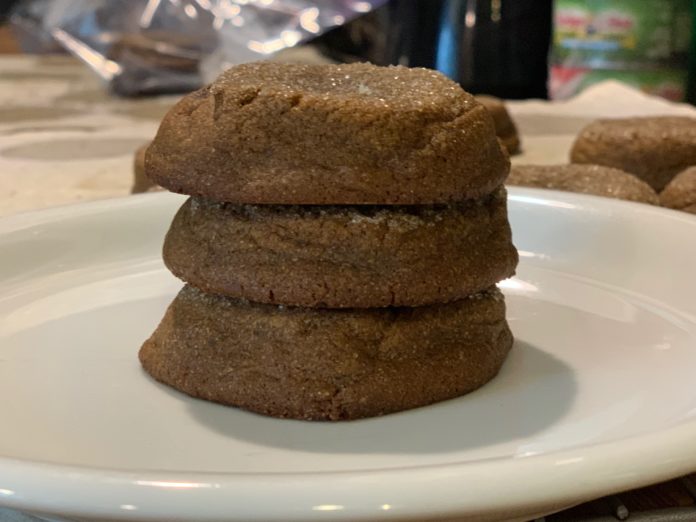 One of the ironies of my life is that I am married to a woman named Ginger who does not, for the most part, like ginger–except when it comes in a good ginger molasses cookie.
When i think of ginger cookies, I think of ginger snaps with the spice and the crunch, but I am married to someone who loves a good soft and chewy cookie. So I set out to create a cookie that would do both and came up with what we called "Milton's Ginger" when we sold them at the Durham Farmer's Market because I'm Milton and she's Ginger . . .
You get the idea.
This is another recipe that can't be made on the spur of the moment. The dough has to chill for at least a couple of hours. I suppose if you cooked them immediately after making the dough they would flatten out and be crunchier. I have never tried that.
milton's ginger
1 1/2 cups butter (3 sticks), softened
2 cups brown sugar
1/2 cup molasses
2 eggs
4 cups all purpose flour
4 teaspoons baking powder
1/2 teaspoon salt
1/4 teaspoon ground cloves
2 teaspoons cinnamon
3 teaspoons ground ginger
1 teaspoon cocoa powder
1/2 teaspoon cayenne pepper
sugar for dusting the cookies
In a stand mixer, cream the butter, brown sugar, and molasses until light and fluffy–five to seven minutes. Add the eggs and mix until well combined.
In a separate bowl, whisk together the flour, baking powder, salt, cloves, cinnamon, ginger, cocoa powder, and cayenne pepper. Make sure the dry mixture is well-mixed before you add it to the wet mixture. Move the dough to a clean bowl, cover with plastic wrap and chill for at least two hours.
Preheat the oven to 375°.
Using a 2 oz. scoop, scoop the cookies on to a parchment-lined baking sheet. I scoop ten of them (that's how many fit on a baking sheet for me in four rows: three, two, three, two). Then I shape each one into sort of a mini hockey puck and dip the top in the sugar. I used to roll the whole cookie, but found that the sugar on the bottom burned, so now i just do the tops.
Bake for 10-12 minutes. (I bake them on the short side so they stay chewy.)
The recipe makes about three dozen two-ounce cookies.
Peace,
Milton