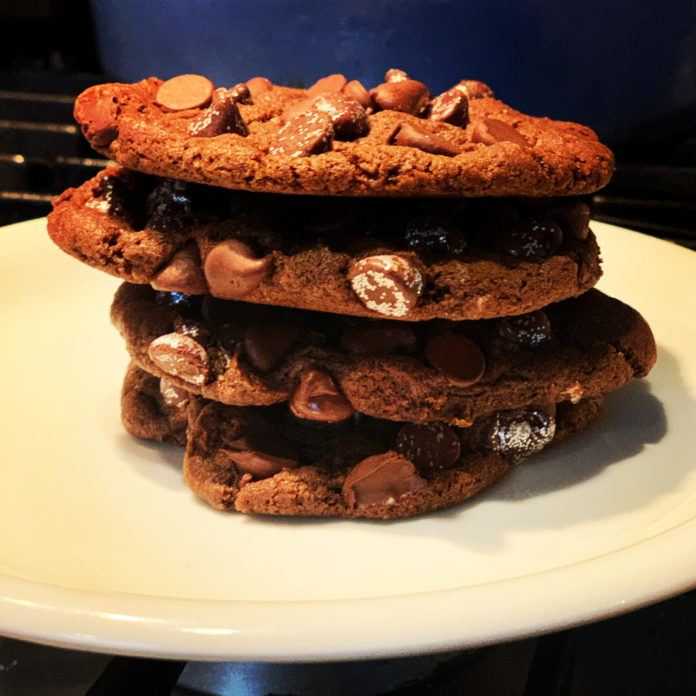 Yesterday I got a text from a church friend asking if was home because she had something to drop off. When she came by, she handed me two packages of Disco Chips, self-described as "semi-sweet morsels and edible glitter morsels." The folks at Nestle have had too much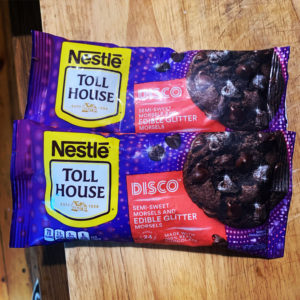 time on their hands during the pandemic. The part of the story I love best is she said she saw them and bought a package and then, when she got home, she thought, "I should have gotten some for Milton," and she went back to the store and did just that.
Bob Marley is right: everything's gonna be alright.
Her gesture of love set two of my rules for living into motion. One is when someone gives you something to cook, you cook. The second is the recipes on packages and boxes are not filler; they are good recipes. I came back in the house, read the recipe on the back, set the butter out to warm up while I finished my workday and then made Disco Cookies by the instructions on the package. (Well, sort of. )
I also learned something. When I make regular chocolate chip cookies (Acoustic Chip Cookies?), I mix the chips in the dough. For these cookies, the instructions were to make and scoop the batter and then press the dough balls into the chips so they all sat on top of the cookie. I suppose that is so the glitter doesn't get lost on the inside. It was a new technique to me and it worked well.
Here is my version of Disco Chip Cookies.
2 1/4 cups all purpose flour (315 grams)
2/3 cup unsweetened cocoa powder
1 tsp baking soda
1 tsp salt
1 cup unsalted butter (2 sticks room temperature)
1 1/2 cups brown sugar
2 large eggs
2 pkgs. Nestle Disco Chips (11 oz.)
sea salt for sprinkling
Preheat the oven to 350°. Line two baking sheets with parchment paper.
Combine flour, cocoa powder, baking soda, and salt in a bowl. Whisk together is it is well mixed.
In a stand mixer, beat the butter and brown sugar together until creamy. I let the mixer run for 8-10 minutes because I think it makes a difference in the quality of the cookie. Add the eggs and mix until well combined. Add flour mixture and mix until everything is incorporated.
Pour the chips into a large bowl. Scoop the batter into balls (about two dozen, using a 2 oz. scoop). Press the balls into the chips so the tops are well covered and the chips are stuck to the dough. Sprinkle with the sea salt. (You can leave this last step out if you want a sweet cookie, but we like the contrast.)
Bake for 9-11 minutes. Let cool and then enjoy.
Well you can tell by the way I use my scoop . . .
Peace,
Milton