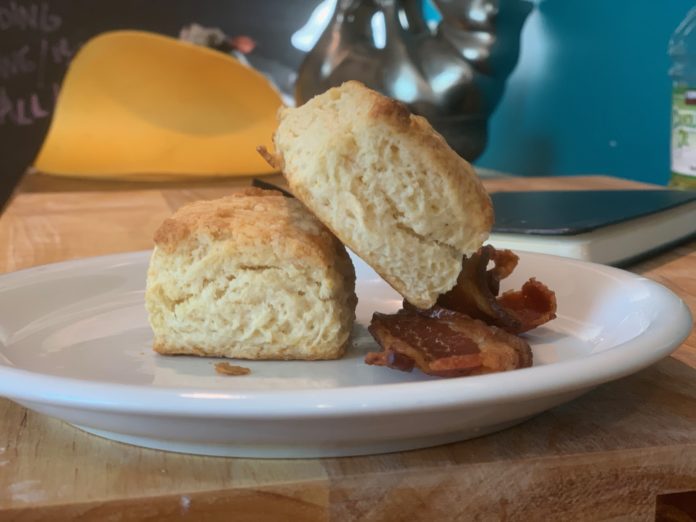 A good biscuit is hard to make.
I lived–and worked in restaurants–in Durham, North Carolina for five years before I dared to say I knew how to make a good biscuit, and I still know there are those who can make better biscuits than I can. Mike Hacker at Pie Pushers tops the list.
That said, the pandemic pushed me back to a biscuit recipe that is unusual in that it is easy and tasty. It is not an original creation on my part; you can find several versions online. But if you are hungry for a good biscuit and time is short–as in, when your mother-in-law asks when you are going to make biscuits again–these are the biscuits for you.
The other thing I like about them is all you have to have on hand to make them is flour, baking powder, salt, sugar, and heavy cream. Start to finish, you can have these on the table, or should I say in your belly, in thirty minutes.
cream biscuits
2 cup flour
2 teaspoons baking powder
3/4 teaspoon salt
2 i/2 tablespoons sugar
1 1/2 cups heavy cream
2 tablespoons butter, melted
Preheat the oven to 425°.
In a large bowl, mix the flour, baking powder, salt, and sugar together. Make a well and add the heavy cream. Stir until the mixture is combined and then knead the dough with your hands just until it holds together.
Put a piece of parchment paper or a Silpat on a baking sheet. Put the dough on the sheet and shape into a rectangle about a half an inch thick. Cut into twelve pieces and separate them so there is about a half an inch between them.
Cook for fifteen minutes. When you take them out of the oven, brush with melted butter and then dig in.
You're welcome.
Peace,
Milton