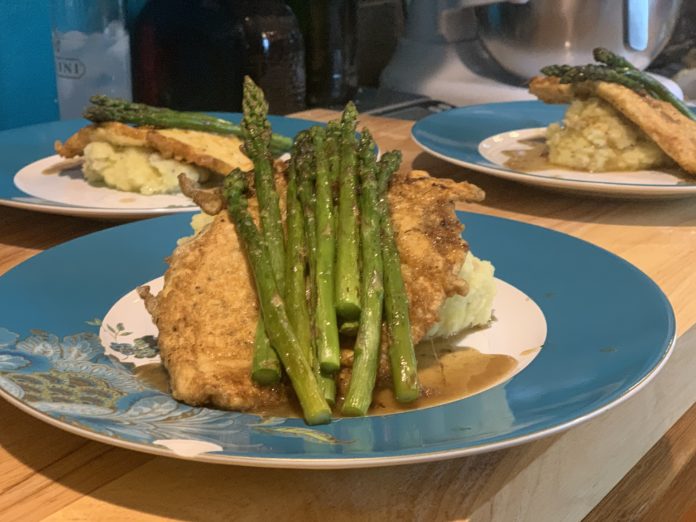 One of the benefits of living in Guilford is Bishop's Orchards has fresh asparagus every May. I had never tasted fresh asparagus–I mean asparagus that was still growing this morning–until we moved here. I now eat asparagus in May and then wait for next year because I know how it really tastes.
Something about asparagus made me want chicken and lemons.
When we lived in Charlestown, Massachusetts we were just a walk across the bridge to the North End, which is the Italian neighborhood of Boston. We ate this chicken dish in a restaurant there one night and I bought the cookbook so I could learn how to make it. I have since lost the cookbook, but I can still get pretty close to how it tasted.
The unusual thing about this recipe is the chicken is dredged in flour and then put in an egg wash before it goes in the sauté pan–without going back into flour or bread crumbs. It has a light a tasty coating.
1-2 lbs boneless chicken cutlets, pounded thin
4 eggs
1 cup flour
6 tablespoons butter, divided
2 tablespoons olive oil
2 lemons, zested and juiced
salt and pepper
Lay the chicken out on a cutting board and season with salt and pepper. Whisk the eggs well and set a side. Put the flour in a shallow dish.
Heat 4 tablespoons of butter in a skillet over medium high heat. While the butter is getting hot, dredge the chicken in the flour, piece by piece, and then dip each one in the egg wash, and then into the sauté pan.
Cook the chicken about three minutes on each side. If they are pounded thin, this will make sure they are cooked through. (You may have to do this in batches.) Transfer the chicken to a serving platter and keep warm.
Add the remaining butter to the sauté pan and increase the heat. With a wooden spoon or spatula, loosen the particles from the bottom of the pan. Add the lemon juice and the lemon zest. Let the sauce reduce a bit; it will brown also. Pour it over the chicken and serve.
For the record, I spread the asparagus on a baking sheet and drizzled it with some olive oil and some salt. I put it in a 425° oven for about seven minutes. I also made some mashed potatoes. From start to finish, the whole thing took less than an hour before we sat down to eat.
Not bad for a Tuesday night dinner.
Peace,
Milton