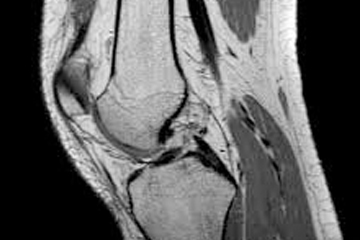 About three years ago, I had a cortisone shot in my knee. It helped up until last December when they gave me another one and sent me to physical therapy. Neither was effective; in fact, the therapy made things worse, so I stopped going. Last month I went back to my doctor and he scheduled an MRI so he could see more of what was going on with my knee. He talked about doing gel injections and the possibility of an eventual knee replacement—at least that is the way I heard it. I went the following day and then the day after that I went to Texas on a trip for work. I saw him again today to get my results.
He led me to a computer monitor to see the images that looked as though they were moving sideways through my kneed in thin slices. The outside looked pretty good. Things fell apart when we got to the middle: no meniscus, bone on bone, even some deterioration. The gel shots would do no good—Jell-o shots might be an option—and we moved to schedule an appointment with the surgeon next Thursday.
I hesitated to write about it tonight because I am still not able to name my feelings, other than to say I am disquieted, or maybe numb. I have been in consistent pain for months and the thought of relief is wonderful. I read some about the success of the surgery and even got encouragement from my brother who had it done many years ago. And I have never had this kind of major surgery. They are going to take out my knee and put metal and plastic in there. Though it has been done for fifty years, I am still working to comprehend it in my body.
I am not one who has minded aging. There are many ways in which I like being sixty-two more than I liked being thirty-two. I don't feel the need to try and look or act any other way than as myself in these days. That said, the consistent physical pain has made me mindful of my limitations in ways that has been sobering, to say the least, and discouraging. It's not that I was ever anything other than an amazingly mediocre athlete, though I am an award-winning dancer, thanks to the Raise the Roof Gala a couple of years ago. But I have not been able to do some of the things I love and that feel like me. It has been, shall we say, a profound adjustment.
I know how it happened. In my years in restaurant kitchens, i didn't pick up my right foot when I pivoted from the prep table to the stove, especially when we were in the weeds. I could feel it in my knee at the end of the night. It was also those years standing under the booming exhaust fan that cost me some of my hearing. One of my favorite places in the world is what left me impaired. I loved those days. There's a parable in there somewhere. I'll have to find it later.
Tonight, I am struck by my privilege—that I have health insurance, that I have access to great healthcare, that I have a job that will still pay me for sick days. I am aware of what we learn from pain—how it teaches us to listen to our bodies, how it makes us mindful of our limitations, how it bonds us to one another, how it drives us to relief. And I am grateful for connections—for Ginger who is always with me, for the family and friends I wrote when I left the doctor's office, for the chance to share with you here.
As I learn more, I will share it. Tonight, it matters to just tell the story as far as it goes.
Peace,
Milton