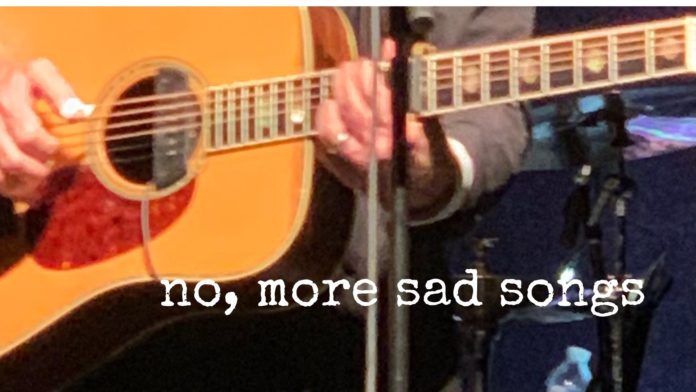 We were in the kitchen this morning kind of goofing around and Ginger said, "Hey, Siri, play sad songs." A couple of seconds passed and the voice from our HomePod said, "Okay, now playing sad songs." Two or three tunes played and Ginger smiled and said, "This sounds like what you listen to all the time."
She's right. I love sad songs. I love songs that sound sad even when they aren't. What I love are songs that offer hope, or talk about how we help each other keep going. That said, I couldn't help but start with one that spoke to our time in the kitchen–Pierce Pettis' "No More Sad Songs," which, slightly altered, gave me my title for tonight's post. I also love the power of punctuation.
sing the one about the guy that lost his true love
play the one about the girl he left behind
everybody wants to hear the sad ones
everybody wants to hear the sad ones
and for the life of me I don't know why
no more sad songs, no more sad songs
no more sad songs, no more sad songs
"Fleet of Hope" by Indigo Girls starts with a beautiful image of two people with different ideas of what fishing means and then carries the metaphor on into the chorus.
the fisherman comes up
puts his two poles in the sand
he stares out at the sea
just exactly like me
but I've got a book in my hand
we will have caught on to something by the end of the day
but mostly we think about the one that got away.
'cause the fleet of hope is so pretty
when she's shining in the port
and the harbor clings to the jetty
for protection and support
out in the choppy waters the sharks swim and play
you're all washed up when Poseidon has his day.
Kate Campbell embodies an informed hope in her song, "Hope's Too Hard," drawing sustenance from the bird song around her.
I've been chattering all night long
like a crag or swallow on and on
I've lost my voice from all this crying
and I've lost my will to sing
hope's too hard and I'm too weak
and I don't know if I can keep
holding on beyond my reach
love can you sing for me
"Keeping Hope Alive" is a song by John Fulbright that has both a haunting melody and a haunting lyric.
Days
Cliches and throw aways
Trying to learn better ways
But it's getting harder to survive
Change
Moments that rearrange
And the only fight that remains
Is called keeping hope alive
Glen Hansard writes wonderful songs that speak to all that is beautiful and difficult about life. "The Song of Good Hope" is one of my favorites.
And watch the signs now
You'll know what they mean
You'll be fine now
Just stay close to me
And may good hope,
walk with you through everything
May the song of good hope,
walk with you through everything
Nightbirde is the one artist in playlist whose song doesn't have hope in the title. Nevertheless, "It's OK" belongs here.
I moved to California in the summer time
I changed my name thinking that it would change my mind
I thought that all my problems they would stay behind
I was a stick of dynamite and it was just a matter of time, yeah
Oh dang, oh my, now I can't hide
Said I knew myself but I guess I lied
It's okay, it's okay, it's okay, it's okay
If you're lost, we're all a little lost and it's alright
It's okay, it's okay, it's okay, it's okay
If you're lost, we're all a little lost and it's alright
It's alright, it's alright, it's alright, it's alright
If you have listened down the list, you might make a case for all of these being sad songs in their own way–and you might be right. The melodies are quiet, even melancholy, even as their lyrics reach for more. Still, for me, these are hopeful songs, so, I say, "No, more sad songs."
Peace,
Milton