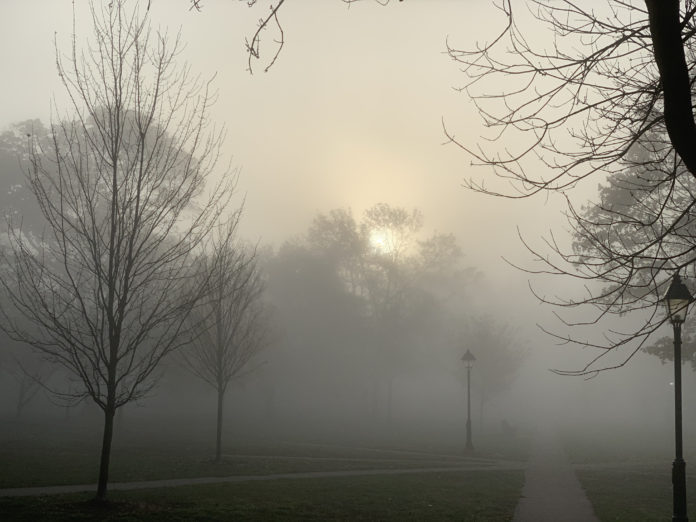 For all but the last few days of Advent the days keep growing shorter. I find myself getting up early so I don't miss any daylight. Our schnauzers have learned to come find me around four o'clock so we can walk the green as the sun sets; if I am in the house, sometimes I go down with it. When we come back from walking, I start thinking about what to make for dinner, and I usually turn on some music because I always looking for things to add to my playlist. I thought I might share some songs for the road ahead.
I have loved to listen to Michael Johnson play and sing ever since I first heard "Bluer Than Blue" and "I'll Always Love You" back in the Seventies. About eight years ago he put out a record called Moonlight Deja Vu that had this song, "How Do You Know What You Know?"
how do you know what you know about love
how do you know what you know
is it what you'd imagined
is it what you believed
does the love that you give
come from love you receive
how do you know what you know
As we move through this season of waiting and hoping, it felt like a good start.
Another voice that has been a part of the soundtrack of my life is Mary Chapin Carpenter. She released a new record this year, The Dirt and the Stars, that includes this song, "Where the Beauty Is."
walk with me and hold my hand
here's so much we won't understand
all that's buried in your heart
the cold and lonely, hopeless part
dig down deeper and find the spark
that's where the beauty is
She has an ongoing YouTube series called Songs from Home where she sings live from her house, accompanied by her dog. Here is her live rendition.
Any song that begins
the thin horizon of a plan is almost clear
my friends and I have had a tough time
seems a good fit for these days. Here is the rest of the verse of "The Wood Song."
bruising our brains hard up against change
all the old dogs and the magician
now I see we're in the boat in two by twos
only the heart that we have for a tool we could use
and the very close quarters are hard to get used to
love weighs the hull down with its weight
"Dance around the Room with Me" showed up in a Spotify playlist. Ana Egge offers a light invitation:
it's okay to be angry
it's okay to be mad
it's okay to feel sorry
it's okay to feel sad
dance around the room with me
start dancing and you'll see
it opens up, opens up your heart
it opens up, opens up your heart
it opens up, opens up your heart
it opens up, opens up your heart
Nothing like a good spin across the kitchen floor to make you feel better.
I have found myself singing the Bee Gees' "I've Just Got to Get a Message to You" mostly because of the chorus:
I've just got to get a message to you
hold on hold on
That seems to be what we are all saying to each other. I found this live acoustic version that lets you hear the harmonies they did so well (before disco).
Warren Zevon will offer our benediction tonight with a song that is easily twenty years old and still seems written for these days.
don't let us get sick
don't let us get old
don't let us get stupid, all right?
just make us be brave
and make us play nice
and let us be together tonight
Be well, be kind, be brave, stay home, and keep singing. See you along the road . . .
Peace,
Milton