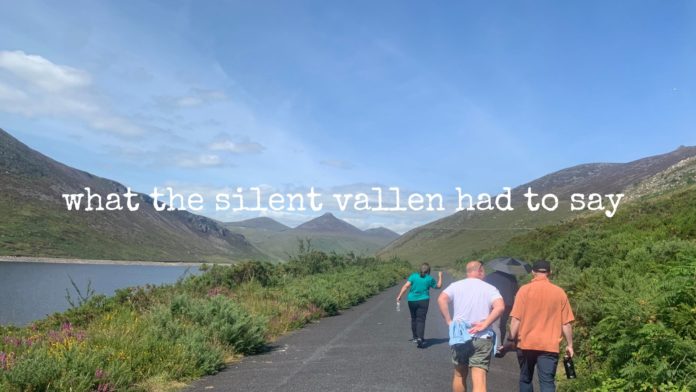 When we left for Ireland, I had visions of journaling everyday and keeping track of all the details, as well as writing every night to provide a travelogue of the trip. Obviously, that didn't happen–mostly because I filled the time doing things and being with people rather than taking notes, though Ginger and I have done our best to go back and write down as much as we can remember. She actually did a better job of tracking details along the way.
My lack of notes reminds me of one of a story I heard on NPR many years ago. The journalist asked several professional photographers to describe "the best picture they chose not to take." All of the photographers interviewed were able to answer almost immediately. Each one described a situation where, when the time came to snap the photo, they were overcome by the sacredness of the moment and chose to take a mental picture instead. Each one could describe what they had seen in vivid detail; they had not forgotten the moment. Somehow it lived more vividly as a mental image rather than a visual one.
I suppose most all of us have mental scrapbooks of places and people, some of which contain pictures we never took but can still see. Some of those people and places are significant even if they aren't famous or well-known because they have helped to shape us into who we are.
As a part of our Ireland Retreat, we spent four days in the coastal town of Kilkeel in northern Ireland, about halfway between Belfast and Dublin. After being in Belfast for four days of walks and talks and meetings, we moved to the more rural setting for a time of reflection and renewal. As we prepared for our day, Gareth Higgins said, "This afternoon I want to take you to my favorite place in all of Ireland."
We boarded the bus and drove about a half an hour into the Mourne Mountains to the Silent Valley Mountain Park, which is home to the Silent Valley Reservoir that is the water supply for both County Down and the city of Belfast. The land is uninhabited. The vegetation is sparse. The mountains are mostly rock, which means the water that runs down them moves quickly into the rivers that were dammed beginning a century ago. Over the course of time, they built walking paths so people could enjoy the mountains. At the entrance are a couple of buildings that house a small cafe and a gift shop. There is a small pond there where you can feed ducks. But, for the most part, the attraction of the park is the three-mile path that runs from the entrance to the base of the Ben Crom Dam. From there, you. can walk up a staircase that switches back and forth until you get to the top of the dam, but most people seemed to be content to sit at the base and rest before beginning the three-mile walk back to the entrance.
About two-thirds of our group made the trip. As we walked, we looked like a human accordion, spreading out and then coming back together as our differing walking rhythms played alongside each other. Most of the walk was a gentle slope along the reservoir until we got near the dam. The last quarter mile was a climb.
The walk felt like a pilgrimage of sorts, mostly because the whole point was to walk. Though the dam was our destination, we weren't really going to see it. We were walking through the Silent Valley because Gareth wanted us to see his favorite place. When we got to the bottom of the dam, most of us rested on the benches while others trekked to the top. I couldn't help but ask the question:
Why is this your favorite place in all of Ireland?
I guess part of me wondered because it was not the most beautiful part of Irelan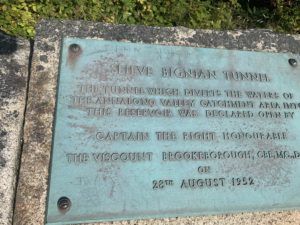 d we had seen. Don't get me wrong–it was beautiful, but it was understated. There were no breath-taking vistas or castles or any significant historical markers, save one for a tunnel that had been dug through one of the mountains to connect two rivers. But I was not asking because I was unimpressed. I asked because I wanted to know why this place mattered to my friend.
Gareth thought for a moment, not because he didn't have an answer as much as he was contemplating how to convey why the Silent Valley spoke to him so profoundly. "I have been coming here since I was a child," he said. "At all different times of year. We used to come up here on New Year's Eve." He went on telling stories for several minutes and, as he did, the place grew more and more beautiful.
A few days later, Ginger and I stood at the top of the Cliffs of Moher on the other side of Ireland. The scale and spectacle of the dramatic way the land drops into the sea is stunning. The walking paths were much fuller than those along the reservoir, and the visitor's center and gift shop much larger. I love that I got to see them, and that they were one of two UNESCO World Heritage Sites we got to see on our trip, along with the Giant's Causeway. But if I had to pick one, I'd go back to the Silent Valley because of the stories. At the Cliffs and the Causeway we read plaques and read histories, but I didn't find anyone to ask,
Why is this your favorite place in all of Ireland?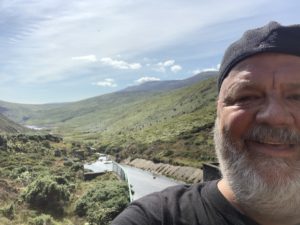 I am grateful that it mattered to Gareth to share his favorite place for no other reason than it was his favorite place. As I walked back, I tried to picture him as a young boy and then as a teenager walking that same path. Based on his story, he grew up on that road, in a way, and then invited us to walk it with him. What a gift to follow in his footsteps and hear what the Silent Valley had to say.
Peace,
Milton