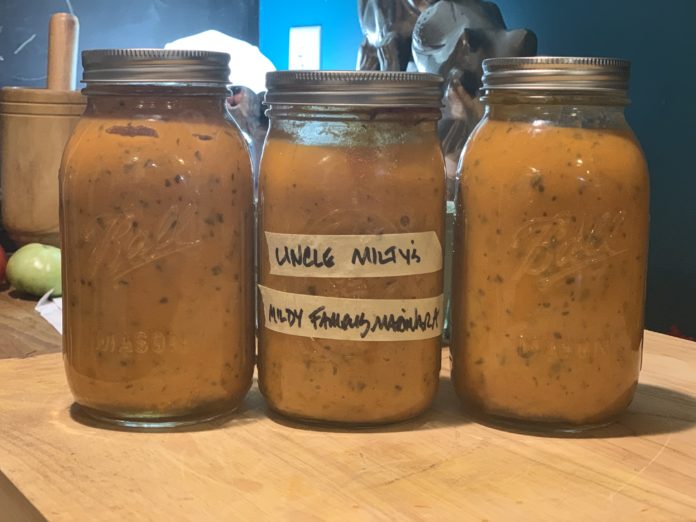 When I worked at the Roobar restaurant in Plymouth, Massachusetts, I learned how to make a marinara sauce from Tim Miller, the executive chef and one of the best people I ever worked for. I learned a lot of things from him.
One summer Saturday after we moved to Durham, North Carolina, I came home from the farmers market with both peaches and tomatoes. I'm not sure what got me to thinking about combinations, but I decided to play with what I had learned from Tim and use them both to make a sauce for a Thursday Night Dinner. As I remember, I poured it over eggplant parmigiana.
It worked.
A couple of weeks after I made up my signature cookies for Cocoa Cinnamon in Durham, I walked into the shop to see them labeled as "Milton's Famous Cookies." When I asked my friend and the co-owner about it, he said, "They are famous here." My sauce has remained a little bit more of a secret, but it's pretty damn good, so I will settle for
uncle milty's mildly famous tomato-peach marinara
Like any good sauce, it's all in how it tastes, so I am not giving specific amounts, other than to say use equal amounts of tomatoes (I prefer paste tomatoes–Romas, San Marzanos) and peaches. Even better if both are fresh, though canned tomatoes will work in a pinch. Don't use canned peaches. Those are ready for pies. Frozen ones would work, however.
This recipe is designed to make a bunch of sauce, but you can make a small amount as well.
tomatoes, blanched and peeled
peaches, blanched and peeled
garlic
basil, chopped
olive oil
Bring a pot of water to boil. Score the tomatoes and the peaches across the bottom: make an "X" with a knife, that is. Drop the tomatoes in the boiling water for 1-2 minutes and then lift them out on to a sheet pan. Bring the water back to a boil and blanch the peaches for 3-4 minutes and lift them out.
Empty the water out, wipe the pot dry, and return it to the stove. (Or use a different pot; I just like to have less cleanup.) While the tomatoes and peaches are cooling a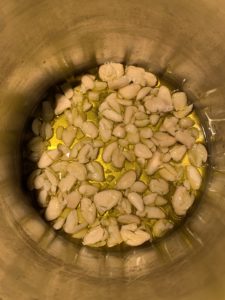 bit, crush enough garlic to pretty much cover the bottom of the potand then pour enough olive oil over the garlic to cover the cloves about halfway. Put it over medium heat and put a lid on the pot. Stir it occasionally. Cook for 6-8 minutes, or until the garlic begins to brown a bit on the edges.
While the garlic is cooking, peel the tomatoes and peaches (the blanching makes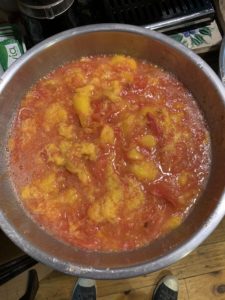 it easy) and put them in a big bowl. Use your hands to crush everything together. Pour the mixture–carefully–into the pot with the garlic and oil and stir to mix well. Lower the heat a little and then let it come to a simmer. Don't put a lid on it; you want it to reduce a bit. Cook for at least an hour–longer if can. Low and slow always makes a sauce taste better. Season the sauce–add salt and pepper, or maybe some crushed red pepper flakes–towards the end of the process.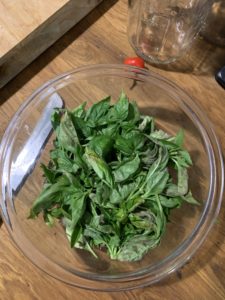 Take the basil leaves off of the stem and chop them. When the sauce is nearly done, add the basil and stir. Then purée the sauce using an immersion blender until it's smooth. Taste and season again.
If you want to can the sauce, add one tablespoon of lemon juice and 1 teaspoon of salt to the bottom of each pint jar (double for a quart jar), and then fill with sauce, seal, and process in a water bath (more boiling water) for 45 minutes (55 for quarts).
Yes, it's pasta sauce, but it tastes so good you could eat it like soup.
Peace,
Milton