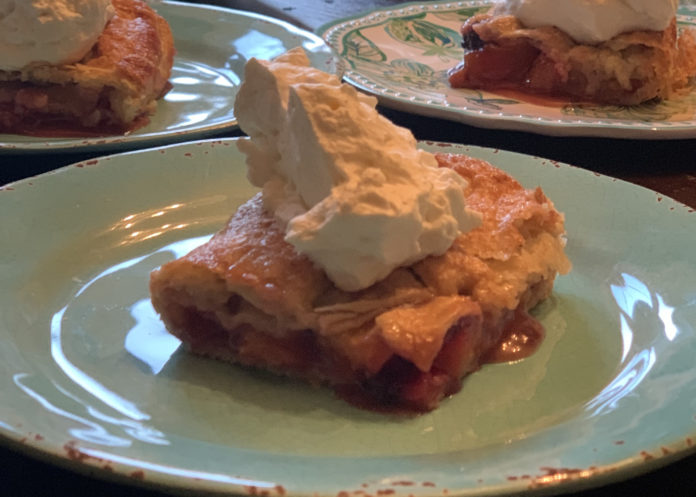 I have made this pie several times over the years, but when I made it most recently while we were in Durham, a friend asked for the recipe. I am slow in finally posting it, but here it is. The crust is versatile. You can use if for most any slab pie. And there are lots of different to fill slab pies. This just happens to be one of my favorites. You can also make an apple version of this by pretty much doing everything the same and just substituting apples for the fruit.
peach and blueberry slab pie
For the crust:
5 cups all purpose flour
1 tablespoon kosher salt
2 teaspoons sugar
1 pound (4 sticks) cold unsalted butter, cut into small cubes
12 to 16 tablespoons ice water
Process flour, salt, and sugar in a food processor until combined. Add butter. Process until mixture resembles coarse meal, about 10 seconds. With machine running, add ice water in a slow, steady stream just until dough comes together. (Do not process more than 30 seconds.)
Turn the dough out and divide it in two portions with one slightly larger than the other (this will be your bottom crust). Flatten both into rectangles about an inch thick and wrap with plastic. Refrigerate at least 1 hour (or overnight).
For the filling:
10 cups peaches, pealed and sliced
2 cups blackberries
1/2 cup brown sugar
1/2 sugar
1/4 cup corn starch
1 tablespoon lemon juice
1 teaspoon cinnamon
1/2 teaspoon nutmeg
1/2 teaspoon salt
Egg wash for brushing crust,
Cinnamon sugar for sprinkling on crust.
Place peaches in a bowl after cutting. Drizzle with 1 tablespoon lemon juice.
In another bowl mix both sugars, corn starch, 1 tablespoon of the lemon juice, cinnamon, nutmeg, and salt and whisk until well mixed. Pour the sugar mixture over the peaches and toss to coat. Set aside.
Preheat oven to 375 degrees F. Take the pie crusts out of the fridge.
Spray a 13 x 18 baking pan (I used a half sheet pan which is 13 x 18 inch).
Roll out the first pie dough on lightly floured surface until it hangs over the edge of the baking sheet by about an inch. Place it in the baking sheet. Use your fingers to push into the corners and up the sides of the pan.
Pour the peach mixture into the pan and spread it out so it is level.
Roll out the top crust so it just comes to the edges of the baking sheet. Lay it on top of the peaches and then fold the overhang of the bottom crust over the top to seal it. I don't crimp the edges like I would for a round crust; I like it to look a bit more rustic.
Cut vents in the top of the crust. Brush with the egg wash and sprinkle with cinnamon sugar.
Place in you preheated oven and bake for about 45 minutes; go a little longer, depending on how dark you like your crust. Remove the pie from the oven and allow it to cool. Slice into squares once cooled. (I slice it into squares.)
This is great for a big group or a potluck.
Peace,
Milton