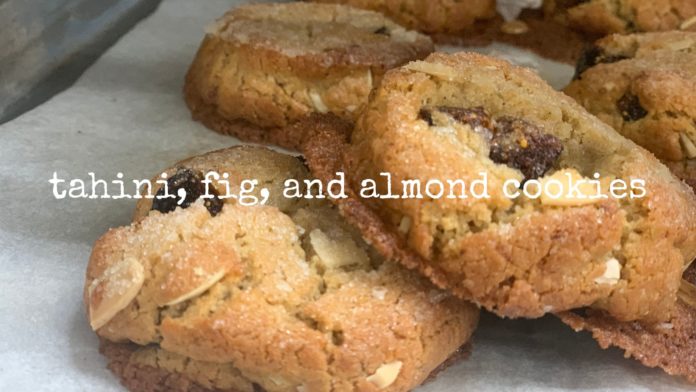 I had a rare opportunity this week to a part of Project PX, an amazing program sponsored by St. Luke's UMC in Houston. My friend Sid Davis asked me to come do a house reading and concert on Saturday and then connected me with Meredith Davis, his daughter, who runs Project PX along with Chef Adam Garcia.
Project PX is "a workforce development training program in a culinary setting" that takes a group of "fellows" into an eighteen-week full-time program that centers not only around culinary skills, but also life management skills and mental health. Each cohort has four or five fellows. They get a full-time wage and serve lunch twice a week to folks in and around the church. Meredith describes the program this way:
We are not a culinary school; our graduates can enter into any field of their choosing. And our holistic approach sets us apart as we include social/emotional health and financial literacy in our curriculum. We also have the unique opportunity to practice skills in real time as we serve meals, cater events, and very soon will have a full cafe that the fellows will help run.
Part of our mission is to give young people a place to learn and hone skills that will serve them regardless of the career path they choose. We pay our fellows for their full-time work, giving them a space to learn while still helping sustain their families. It is a place to discover talents and skills, and figure out how to make those gifts work for you long-term.
My task was to bake cookies with the fellows–Brandon, Chris, Dan, and Kenneth–and to talk with them about how I got into cooking. Our collaboration and conversation also gave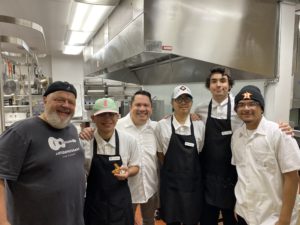 me the privilege of hearing some of their stories. I brought two recipes–Peanut Butter, Chocolate Chip, Sriracha; and Tahini, Fig, and Almond. The recipes go together for me because, at their base, they are the same cookie in that they both use plant-based butters. Then, because of the different flavors of peanuts and sesame seeds, they go in different directions.
Over two hours, we compared recipes, prepared the doughs, shaped the cookies, baked them, talked a bunch, and ate the fruits of our labors–and we shared some as well. Chef Adam sets a tone of kindness and attentiveness in his kitchen. The guys worked hard, listened well, and made good cookies. We all had a good time. If I lived closer, I would be there everyday.
One of the lessons I learned (again) from Project PX is that the best way to change the world is in small actions rather than grand gestures. The guys I worked with are the fifth cohort for Project PX. Meredith and Adam and all those who work with them are changing the world one eighteen-week cohort after another. What makes the difference in everyone's life are relationships, which means the energy runs both ways: everyone in the room is teaching and learning, everyone is giving and receiving, everyone matters in the mix.
Alongside of Brandon, Chris, Dan, Kenneth, Adam, and Meredith, I got to change the world with cookies.
I got to see the plans for the new building that will open in a year in the Sharpstown area and will allow for the program to grow as well as to offer a community center and other things. I hope one day I get to bake cookies there as well.
I have posted the recipe for the Peanut Butter, Chocolate Chip, and Sriracha cookies before, but the tahini cookie is a cookie I have only made one other time, when we did the Milton's Famous popup in Durham in August of last year. I wanted to make something new and kept thinking about what could replace the peanut butter. Thinking of tahini made me think of Mediterranean, North African, and Middle Eastern flavors, so I used orange extract instead of vanilla, added cardamom and black pepper to the dough and then finished with sliced almonds and chopped dried figs.
All of it sounds a bit odd, but they really taste good.
tahini, fig, and almond cookies
1 cup butter (2 sticks) room temperature
16 oz, tahini, mixed well
2 cups (17 oz.) brown sugar
2 eggs, room temperature
1 tablespoon orange extract
3 cups (16.5 oz.) all purpose flour
1 teaspoon baking powder
1 1/2 teaspoon baking soda
1/2 teaspoon salt
2 teaspoons black pepper
1 teaspoon ground cardamom
8 oz, dried figs, chopped
3 oz. sliced almonds
granulated sugar
Preheat oven to 375°.
In a stand mixer using the paddle, mix the butter, tahini, and brown sugar until well emulsified. In general with my cookies, I let the mixer run for about ten minutes at this stage to make sure the fat absorbs the sugar and it takes in a lot of air.
Add the eggs and orange extract and mix until combined, scraping down the sides of the bowl as needed.
In a separate bowl, combine the flour, baking soda, baking powder, salt, and spices. Whisk them together and add them to the wet mixture in the mixer. Mix until combined, but don't mix it to death. Scoop the dough into a large bowl and work the figs and almonds in by hand so they are scattered throughout the batter.
Using a 2 ounce scoop, drop the cookies on a parchment-lined baking sheet. Shape each ball into a sort of mini hockey puck that is about an inch and a half across and dip the tops in granulated sugar and return them to the baking sheet. Bake for 9-10 minutes. I usually turn the cookie sheet halfway through.
Let them sit on the baking sheet–on a cooling rack–for about five to ten minutes before removing them.
As I said, these taste good. The next time I make them they will even taste better because they will also hold the memory of my day with Brandon, Chris, Dan, and Kenneth.
Peace,
Milton
Thanks for reading. My website is free and ad-free because of the support of my readers. If you would like to become a sustaining member, click here. You can also subscribe to my free weekly newsletter, mixing metaphors.