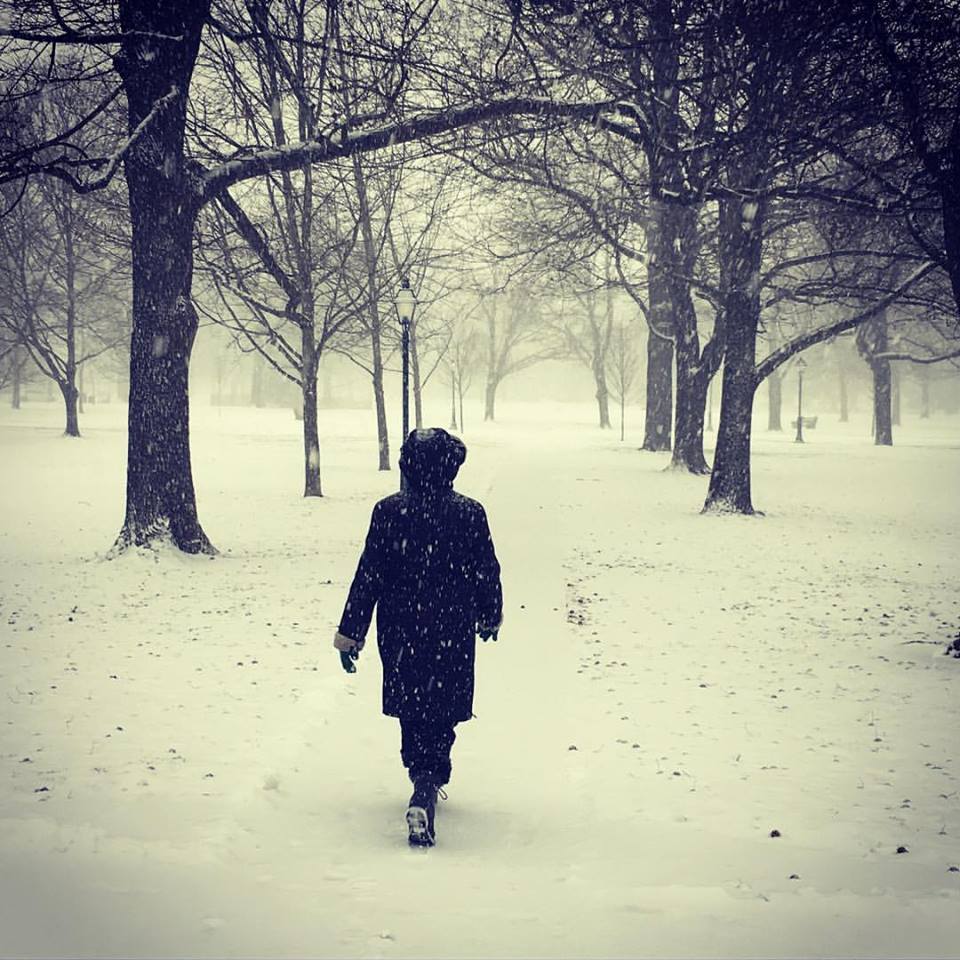 I spent part of my day working from a window seat at The Marketplace, a wonderful coffee shop-café-grocery store that sits on the edge of the Guilford Town Green, which is renowned as the largest town green in New England (almost eight acres) and was designed by Frederick Law Olmstead, who also designed Central Park and Boston Common.
I have been reading Mary Oliver's recent collection of essays, Upstream, in which she talks about hearing a lecture about the Whitney family by one of the granddaughters of Gertrude Vanderbilt Whitney, who established the Whitney Museum in New York City. Oliver said the woman used a phrase that stuck with her: inherited responsibility; she goes on to talk about it in relation to the writers who inspired her.
For it is precisely how I feel, who have inherited not measurable wealth but, as we all do who care for it, that immeasurable fund of thoughts and ideas, from writers and thinkers long gone into the ground–and inseparable from those wisdoms because demanded by them, the responsibility to live thoughtfully and intelligently. To enjoy, to question–never to assume, or trample. Thus the great ones (my great ones, who may or may not be the same as your great ones) have taught me–to observe with passion, to think with patience, to live always caringly. (56-7)
Once upon a not-s0-long-ago time, our church building and our house (which was then a school building) were
on what is now the Guilford Town Green, as was the cemetery. I don't know how people decided, or who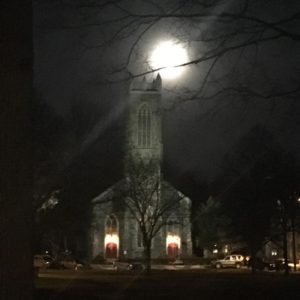 decided, but Mr. Olmstead's plan required moving all of them, and that is what they did. They built a new church building, moved our house down the block with a team of oxen, opened a new cemetery not so far away and moved the grave markers there. Without moving the graves. The Green is alive with activity most days–even in the cold weather. It is truly the heart of our little town. As I watch people move around, I wonder who knows the story of how the Green got here. On a thoughtful, rainy afternoon like this one, I find myself asking, who died for me to get here? Who was killed? Who lost so I could win my place of privilege?
I'll never learn all the answers. Someone's name will get left out. Yet part of the story of my life is working to understand and appreciate the context in which I live it out: those who came before me, those with whom I share these days, and those who will come after me. To live as Oliver suggests–to observe with passion, to think with patience, to live always caringly–is to live, as I like to say, with a sense of appropriate insignificance: it matters that I am here, but not more than anyone else. However I come to understand my place in this world, I must begin by embracing the truth that I am neither the center of nor the reason for the map. I am not the headliner. I find my place by looking at the whole map, not just my coordinates.
The rhythm of her words–to observe with passion, to think with patience, to live always caringly– carry the same cadence as Micah 6:8:
He has told you, O mortal, what is good;
and what does the Lord require of you
but to do justice, and to love kindness,
and to walk humbly with your God? (NRSV)
It strikes me that a big part of what makes Donald Trump's public posturing possible is that he is a manifestation of a culture who has forgotten who is buried under the Green, if you will. We are a culture who finds little value in our inherited responsibility, our legacy, our history, not to mention our regard for one another. We have chosen to become our own frame of reference: we owe nothing to anyone, put little value in remembering, and are content to tweet and rant rather than "to observe with passion, to think with patience, to live always caringly."
We can't do that in one hundred and forty characters.
Today marks what would have been my mother's eighty-fifth birthday. Last year, we were with her in hospice in Waco to celebrate the day, and to say goodbye. She died three days later, leaving behind a legacy of love and tenacity. One of the things born in the midst of her dying was a newfound relationship between my brother and me. With the prospect of both our parents being dead, we struggled with how we would find each other, having allowed obstacles to stack up between us. We didn't have bad blood between us as much as we had learned to live comfortably with the distance. As we shared the days around her death together, we decided to make ourselves uncomfortable instead. I realized I could find my brother if were willing to offer him the same grace and forgiveness I offer others in my life. We both realized, I suppose, that we had our own inherited responsibility to one another, and we have made the best of it.
When I accept that Trump's words and actions are less an aberration and more of a manifestation of our culture, I find hope in the possibility of resistance, looking once again at Oliver's words, and Micah's as well:
to enjoy, to question–never to assume, or trample;
to observe with passion, to think with patience, to live always caringly;
to do justice, love kindness, and walk humbly with our God.
Our best conversations will not happen at full volume or at full speed. Let us meet on the Green for coffee, or wherever we can, and remember the stories handed down to us, and those being told around us, that we might remember the great value of our inherited responsibility and the wealth we have to share.
Peace,
Milton