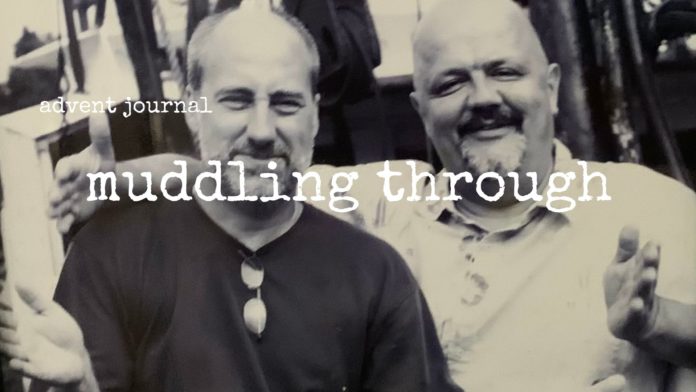 Ginger and I have spent the last couple of days working to get packages in the mail for our family, who are scattered about the country. Yesterday afternoon while Ginger was at work, I was home baking cookies to pack and send (and let Rachel have a few), which meant I got to pick the music. That matters because I tire quickly of the onslaught of holiday tunes. The aggressive version of "Here Comes Santa Claus" I heard in the grocery store today almost sent me running for the parking lot.
I have two exceptions–and by that I mean songs I love to hear more than once–when it comes to songs of the season. One is the soundtrack to John Denver and the Muppets: A Christmas Together and the other is "Have Yourself a Merry Little Christmas." The first because it's John Denver and it's the Muppets and I have long been an unabashed fan of both. The last because it holds both the sadness and the comfort of Christmas in a way few songs or carols do.
"Have Yourself a Merry Little Christmas" is part of a soundtrack as well. Judy Garland sang it in "Meet Me in St. Louis"–Esther (her character) sang it to Tootie, her five-year old sister on the eve of the last Christmas in their family home because they were going to have to move to New York because of their father's job. The point of the scene in which she sang was to say, "Let's make the best of this Christmas."
You may already know this part. The lyrics she sang were not the original ones. Here is what the songwriters first gave her:
have yourself a merry little Christmas
it may be your last
next year we may all be living in the past
have yourself a merry little Christmas
pop that champagne cork
next year we may all be living in New York . . .
The words fit the plot line, but Garland told the writers that they would make the little girl cry, so they rewrote them to the ones we know, for the most part.
have yourself a merry little Christmas
let your heart be light
next year all our troubles will be out of sight
have yourself a merry little Christmas
make the yuletide gay
next year all our troubles will be miles away
once again as in olden days
happy golden days of yore
faithful friends who are dear to us
will be near to us once more
someday soon we all will be together
if the fates allow
until then we'll have to muddle through somehow
so have yourself a merry little Christmas now
As the song found a life beyond the movie, other lines were tweaked accordingly ("next year" became "from now on"), but the line I wish had lived on (and does, in some versions) is the penultimate one:
until then we'll have to muddle through somehow
That feels truer than "hang your shining star upon the highest bow" to me because my star doesn't feel that shiny and it is what we do: we muddle through, somehow, with the hope and promise of our connections to one another.
After asking Siri to play several different versions of the song–most of which didn't muddle through–I turned to John and the Muppets. The third song on the record is "The Peace Carol," a folk song written by Bob Beers, that begins
the garment of life be it tattered and torn
the cloak of the soldier is withered and worn
but what child is this that was poverty-born
the peace of Christmas Day
Tattered and torn is what we often look like as we muddle through, or at least that's the way the words hit me. The last verse of the carol turns to an accounting image that reminds me of how often we speak of what our lives add up to be, or how we count the years. Even the Psalmist prayed, "Teach us to number our days."
add all the grief that people may bear
total the strife and the troubles and care
put them in columns and leave them right there
the peace of Christmas Day
Maybe the last line is a response to that prayer: "put them in columns and leave them there." And now I have "Seasons of Love" in my head (that happened at Christmas, right?): "how do you measure a year in the life?" We measure as we muddle–sort of like I have done in this paragraph. We answer the phone, or we write letters and e-mails, we text, we drive or fly, and when those things can't happen we miss each other and we muddle through.
Though it doesn't show up on the page, my phone rang as I finished the above paragraph. It was my friend Burt calling to dust off a memory–forty years ago tonight we were at my apartment for his bachelor party. My best description of Burt is he is my most enduring friend. We met in the fall of 1976 and have been a part of each other's lives since. I love that man. And I trust him.
Just before he called, I was scouring through The Dictionary of Obscure Sorrows to find this word:
lilo
n. a friendship that can lie dormant for years only to pick right back up instantly, as if you'd seen each other last week . . . (from lifelong + lie low. Pronounced "lahy-loh.")
Then the phone rang. Burt asked how I was doing and I told him I was hanging in there. I went into more detail and then asked about him. We both had muddling stories to tell. As we prepared to say goodbye, he said, "I know these are hard days. Just remember you're not alone. We've got you."
However tattered life may be, somehow, those words are enough to muddle through.
Let us say them over and over to one another: we are not alone; we've got us.
Peace,
Milton
Thanks for reading. For the month of December, my book, The e-book version of The Color of Together is 99 cents at Amazon. Please check it out. Also, You can also subscribe to my free weekly newsletter, mixing metaphors. It comes out every Tuesday. Both my newsletter and blog are free and ad-free. If you would like to support my writing, you can become a sustaining member.