forty-seven octobers ago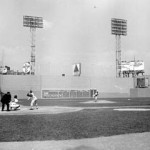 i was eleven
dad was thirty-nine
and we lived in a shotgun
apartment for missionaries
who had come home
from the field . . .
I didn't know much
about america, but
I loved the boston red sox
though we had never been
to boston in the fall
and I was not much
of a baseball player . . .
forty-seven octobers ago
the sox made it to
the world series — when they
still played afternoon games
and as I left for school
dad said, "do you want to come
home early and watch with me?"
he wrote me a note for every
afternoon game
I walked home and
we sat on the couch
together while the red sox
raised my hopes and
broke my heart . . .
the favorite memory
of my childhood
is crisp and alive
in the autumn air
and the leaves letting go
like dad did this summer
let's go red sox . . .
Peace,
Milton