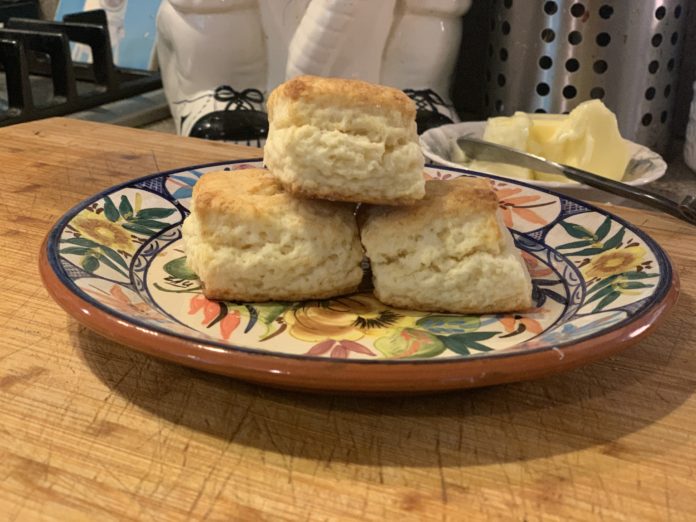 One of the things I learned when we moved to Durham, North Carolina is that making a good biscuit is a practiced art form. I worked in restaurants there alongside of some amazing biscuit makers before I felt like I could say I knew how to make a good biscuit. In particular, I want to call out my friend Mike Hacker of Pie Pushers who taught me the most about biscuits and still makes my favorite one.
To say biscuits take time is to state the obvious. But a few years ago I learned that when I wake up on Saturday mornings like this one and it is cloudy and chilly and you wish you had a biscuit, these sweet cream beauties do the trick. They are simple and good. Start to finish they can be on the table in a half an hour. That's hard to beat.
They also serve as a reminder that you should always have heavy cream in your fridge.
sweet cream biscuits
2 cups flour (10 oz.)
2 teaspoons baking powder
3/4 teaspoon salt
2 1/2 tablespoons sugar
1 1/2 cups heavy cream
2 tablespoons butter, melted
Preheat your oven to 425°.
Whisk the dry ingredients together and add the cream. Fold with a spatula until it mostly comes together and pour it out on to a piece of parchment and use your hands to shape it into a rectangle. Roll it to about a half an inch thick, keeping the shape, and then cut it into squares. We like them small,
so I cut twelve pieces. Move the parchment on to a rimmed baking sheet and separate the biscuits.
Bake for 15 minutes. Paint the tops with the melted butter when they come out of the oven and serve.
Peace,
Milton