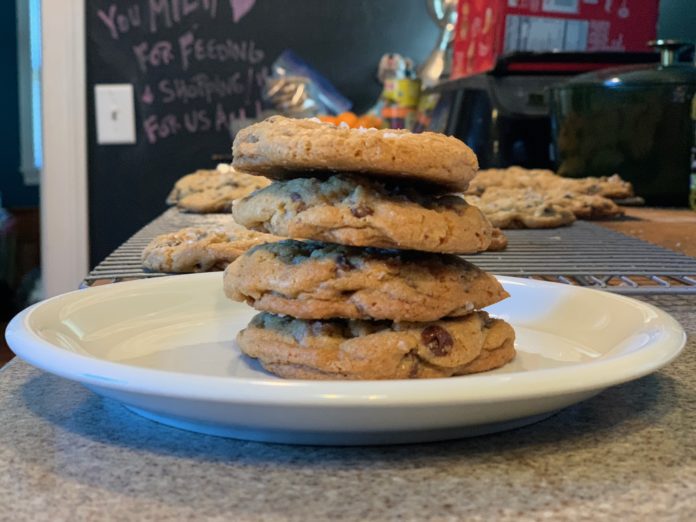 Tonight's post is a continuation of my occasional series, "Cookies with Stories."
As I have mentioned more than once most of my recipes come from my cookie-baking days in Durham, North Carolina. Tonight's cookie is the first one with a Guilford story attached to it.
We moved to Connecticut for Ginger to become co-pastor of the First Congregational Church of Guilford UCC. Her pastoral partner was Sarah, who was quite enamored of my cookie business. I forget the occasion, but I was going to bake cookies for her and I asked what her favorite cookie was. She said she wanted a salted caramel chocolate chip cookie. I took on the challenge.
The biggest challenge was finding caramel pieces. The traditional Kraft caramels are too big and they are individually wrapped, which is a pain. After searching the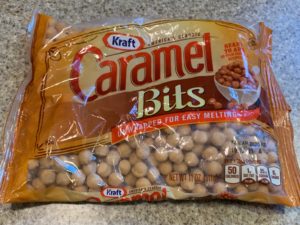 internet, I found that Kraft makes Caramel Bits, but they are hard to find. Around these parts, Target is the only place that has them consistently (yes, I have made these with some regularity). The closest Target is about twelve miles from Guilford, so these are a labor of love, but I have also learned to buy several packages so that I have them on hand when I want to make these cookies.
The base of this recipe is my chocolate chip cookie recipe. I will put a note at the bottom that tells you how to adjust the recipe if you just want to make those.
salted caramel chocolate chip cookies
1 cup butter, softened
2 cups brown sugar
2 eggs
2 teaspoons vanilla
2 3/4 cups flour (15 oz, of King Arthur)
1 tablespoon sea salt
1 teaspoon baking powder
1 1/2 teaspoons baking soda
18 oz. chocolate chips
11 oz, Kraft Caramel Bits (1 package)
sea salt for sprinkling
Preheat the oven to 375°.
In a stand mixer, beat the butter and brown sugar until light and fluffy–about seven or eight minutes. Add the eggs and vanilla and mix until they are well combined.
In a separate bowl combine the flour, sea salt, baking powder, and baking soda. Whisk to make sure everything is well mixed and then add the dry mixture to the butter-sugar mixture and turn the stand mixer on medium. When it is about halfway mixed, add the chocolate chips and caramel bits and mix until the dough comes together.
Use and 2 oz. scoop to place the cookies on a parchment-lined baking sheet. Generously sprinkle the tops of the cookies with sea salt. Bake for 12-14 minutes. Makes about four dozen cookies.
NOTE: If you want to make sea-salted chocolate chip cookies, just leave out the caramel bits. If you want straight up chocolate chip cookies, leave out the caramel, reduce the salt in the recipe to 3/4 teaspoon, and don't sprinkle salt on them.
Peace,
Milton