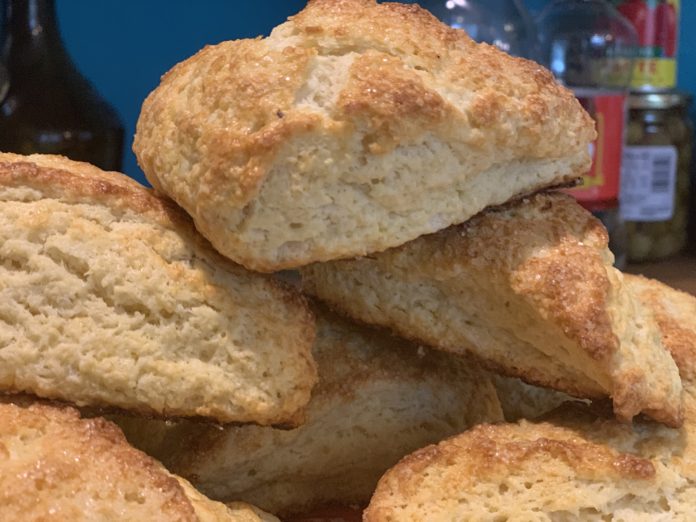 A friend has been going through some tough times lately. They are from England, so I decided I would make English scones to offer support. English scones are lighter and fluffier than what we get in most American bake shops. They are good with butter and jam or marmalade; they are also good all by themselves.
English-Style Scones
2 cups flour (10 ounces)
1/4 cup sugar
4 teaspoons baking powder
1/2 teaspoon salt
6 tablespoons unsalted butter, softened
2/3 cup milk
1 large egg
Preheat oven to 425 degrees.
Put first four dry ingredients in a food processor and pulse just enough to mix them well. Cut the butter into pieces and add to the dry mixture. Pulse seven or eight times, until butter is combined with the flour mixture. It will look like coarse sand. You shouldn't see any chunks of butter. Transfer the mixture to a large mixing bowl.
In a small bowl, whisk the milk and egg together. Save about 2 tablespoons for an egg wash and add the rest to the dry mixture. Stir with a spatula until a dough forms. At that point I use my hands to knead and press the dough to pick up all the dry crumbs in the bowl. Dump the dough out on a lightly-floured surface (or put some parchment paper down, if you don't want to add flour) and knead the dough eight or ten times until it forms a fairly smooth ball. It may feel a little sticky.
Form it into a disc and then roll or pat it out to a one-inch thickness. It will be about eight to ten inches in diameter. Set the disc on a parchment-lined baking sheet (or use a silicon mat, if you have one) and cut the disc into eight equal sections and separate them on the baking sheet so there is about a half inch space between each one. I basically just pull the circle apart a bit.
Brush the egg wash over the top of the scones and sprinkle a little sugar (or cinnamon sugar). Cook for 13-15 minutes, or until they are golden brown on top and bottom. They should rise two to three times their size. Let them sit on the baking sheet for about five minutes and then transfer them to a cooling rack.
These won't last long.
Peace,
Milton