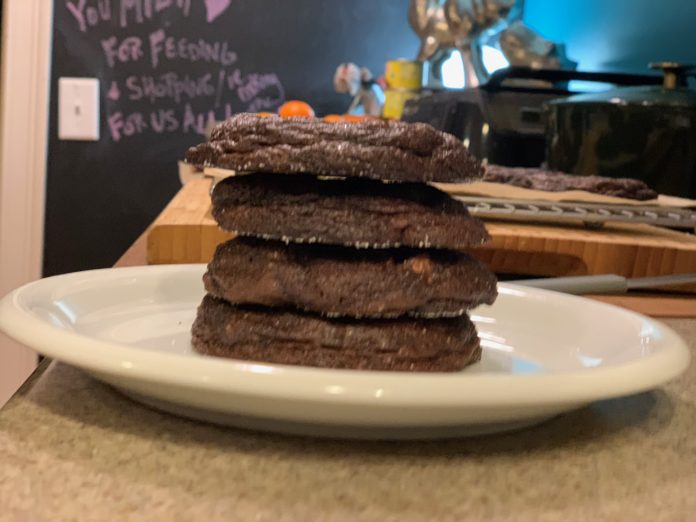 Some of my cookies can be made on demand. These take some time.
These cookies came about as we began exploring new flavors to add to our repertoire. Early on in the Milton's Famous days, we began to say we wanted our cookies to tell a story: there was a beginning taste, a middle, and an end. These cookies start strong, run deep, and tell a seriously rich chocolate story the whole way with a salty finish.
They are a close second to the Peanut Butter Sriracha Cookies as Ginger's favorite.
chocolate, olive oil, and sea salt cookies
1 c olive oil
2 c brown sugar
4 eggs
1 1/2 c flour
1 1/2 c unsweetened cocoa powder
1 t sea salt
2 t baking soda dissolved in
2 T hot water
2 t vanilla
24 oz. semi-sweet chocolate chips
sea salt
Mix olive oil and brown sugar in a stand mixer. The oil will not emulsify with the sugar in the same way butter does. Scrape down the sides of the bowl and add the eggs. Beat the mixture until it looks creamy.
In a separate bowl, combine the flour, cocoa powder, and sea salt. Add it to the wet mixture to combine and then add the dissolved baking soda and the vanilla. The batter will be thick, but should be smooth. Add the chocolate chips and mix well. Chill the batter at least a couple of hours. I usually let it sit in the refrigerator overnight.
Preheat the oven to 350°.
Scoop the cookies on to a parchment lined baking sheet. The batter is sticky. I spray my scoop with Pam every two or three cookies. Generously sprinkle sea salt on the tops of the cookies. Cook for 12-14 minutes for 2 ounce cookies.
These take some time, and they are worth it.
Peace,
Milton