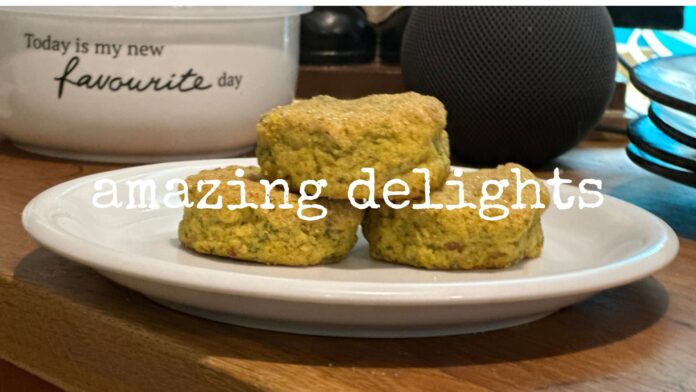 The best recipes tell a story.
This one starts with my friend, Sid Davis, who is the Minister of Music at St. Luke's United Methodist Church in Houston. He called awhile back and invited me to come to his church to do two things. One was to read a poem for All Saints Sunday (that I needed to write first) and the other was to create a cookie that would be a part of an All Saints gathering we decided to call "This Tastes Like a Memory," where people would bring cookies that held the stories of loved ones.
The poem is in another post—and it turned it out well. As far as the cookie goes, my first thought was to use pecans, since that is the state nut of Texas. As I was getting out of my car one afternoon, I saw the giant sage bush that graces the flower bed next to the driveway and began working on a pecan-sage cookie, which, thanks to the internet, sent me down some wonderful culinary rabbit holes.
The Houston connection pulled me in two cultural directions, as far as flavors go: Mexican and Vietnamese. I decided to add some cornmeal to the cookie, as well as some cinnamon, on the Mexican side. The Vietnamese connection was the ginger, turmeric, and also cinnamon. I also decided to use lemon extract instead of vanilla to add a citrus layer.
I made a couple of test batches, both of which were sampled by Ginger and Rachel. When Rachel smelled the second batch, she said, "Are you making more of those amazing delights?"—and then I knew what to call the cookie.
They are a story worth tasting.
amazing delights
3 sticks of butter, room temperature (1 ½ cups)
1 cup brown sugar (8.5 oz)
2 eggs, room temperature
2 oz. lemon extract
2 cups flour (11 oz.)
1 cup corn meal (4 oz.)
2 teaspoons baking powder
½ teaspoon salt
1 teaspoon turmeric
1 cup fresh sage, chopped
8 oz. crystallized ginger, chopped
8 oz. pecans, chopped
1 cup sugar
1 tablespoon cinnamon
Preheat the oven to 375°.
Cream the butter and brown sugar together in a stand mixer. I let the mixer run for 8-10 minutes to really emulsify the two ingredients. Then add the eggs and lemon extract and mix until well combined.
In a separate bowl, mix the flour, cornmeal, baking powder, salt, and turmeric. Take about a cup of that dry mix and put it in the bowl of a food processor along with the sage. Process until sage is almost unnoticeable. Then add the crystallized ginger and the pecans and pulse until they are very small pieces. Add the contents to the remainder of the dry ingredients and mix them well. Then add the dry mix to the bowl of the stand mixer and mix until that, too, is combined well.
Mix the sugar and cinnamon together in a separate bowl.
Scoop the cookies on to a parchment-lined baking sheet. (I use a 2 oz. scoop.) Shape them in to discs—like a little hockey puck—and dip the tops of the cookies in the cinnamon sugar and place them back on the baking sheet about three inches apart.
Bake for 13-15 minutes. I let them cool on the baking sheet on a rack. Makes about three shy of three dozen cookies.
Peace,
Milton