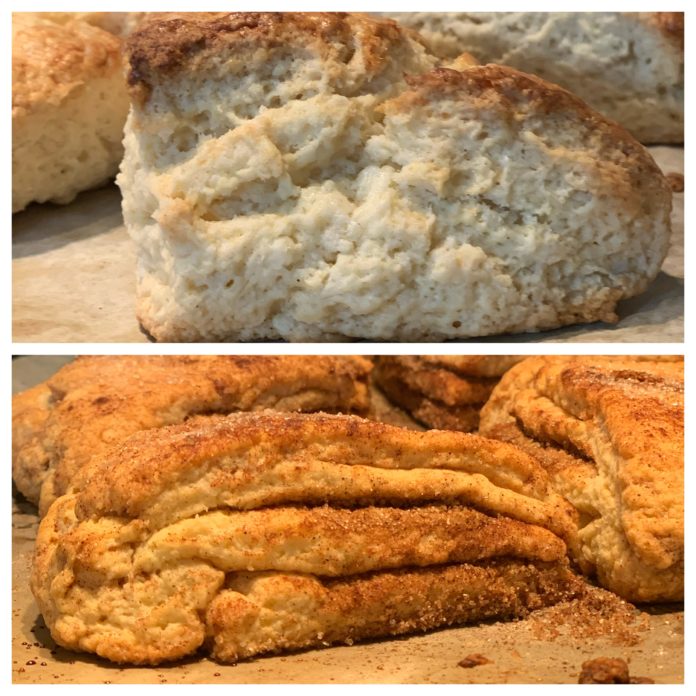 I grew up eating scones in Africa because of the British colonial influence. For the most part, they came with afternoon tea–and they were pronounced like the word gone. I'm not sure what got lost in translation when they made it to this side of the ocean, but not only did we change the pronunciation (like own), but we turned them into hockey pucks.
It takes some work–or at least paying attention–to make a good scone.
Over the past few months I have found two recipes that make good scones and both approach it differently. The first caught my attention because of the name: English-Style Scones. I had hopes they wouldn't make me pine for the Stanley Cup Playoffs when they came out of the oven. The second recipe caught my eye at Smitten Kitchen, one of my favorite sites, because it featured cinnamon and sugar, which are both big hits at my house.
Both of them make great scones–flaky, tasty, buttery. Yet both of them go at it differently. One uses a food processor and room temperature butter; one tells you to cut in really cold butter, for example. One uses more baking powder; the other uses more butter. I thought it was worth sharing my versions of what they did as a way to encourage other Americans to learn how to make a scone worth eating.
english-style scones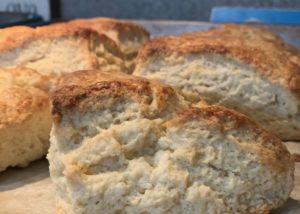 2 cups flour (10 ounces)
4 t baking powder
1/2 teaspoon salt
1/4 cup sugar
6 tablespoons unsalted butter, room temperature
2/3 cup milk
1 large egg
Preheat the oven to 425°.
Pulse the flour, baking powder, salt, and sugar in a food processor until mixed. Add butter and pulse seven or eight times, for two or three seconds each time. The mixture will look coarse. Transfer the mixture to a large mixing bowl.
In a small bowl, whisk the milk and egg together. Set aside 2 tablespoons for the egg wash. Make a well in the middle of the dry mixture and pour the milk and egg into it. Mix it all together with a spatula until it starts to take shape and then use your hands to knead the dough until it is a smooth ball. As with biscuits, don't knead it too much–just enough for it to all come together.
Put a piece of parchment paper or a silpat on a baking sheet. Shape the dough into a rectangle and put it on the baking sheet. Press it out with your hands until it is about a half inch thick. Use a knife or a bench scraper to cut it into nine or twelve pieces, depending on how big you want your scones to be. Separate them so they are about an inch apart.
Brush with the egg wash you set aside earlier.
Bake for 13-15 minutes (if you cut it into twelve scones, lean on the short side; for nine scones, it will be closer to fifteen).
A quick note about the amount of flour in each recipe. As you notice, both give weights as well as cup measurements. My suggestion is to follow the weights. If you don't have a kitchen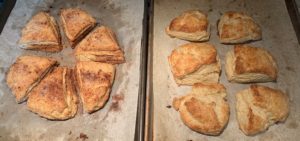 scale, get one. It matters. With my cookies, my measurement was 5.5 ounces = 1 cup. That is what made my recipe work. When I read these amounts, I decided to trust them rather than using the weight I was accustomed to and it paid off.
In the recipe below, you will add some flour when you are rolling out the dough, so it will be closer to 2 cups when you're done, but start with 230 grams. It makes a difference.
cinnamon sugar scones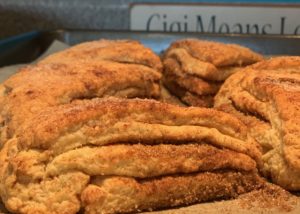 1 3/4 cups flour (230 grams)
6 tablespoons sugar, divided
1 tablespoon baking powder
1/2 teaspoon salt
8 tablespoons unsalted butter, cold and diced (1 stick)
1/4 heavy cream or half and half
1 large egg
2 teaspoons cinnamon, divided
Preheat the oven to 375°.
In a large bowl, whisk the flour, 3 tablespoons of the sugar, baking powder, and salt. Cut in the diced butter until the mixture looks like cornmeal or coarse sand.
In a small bowl, whisk the cream and egg together. Make a well in the middle of the dry mixture and add the cream and egg. Use a fork in a whisking motion to mix the two together, then knead by hand until it forms a smooth ball.
Shape into a rectangle and lay on a floured surface. Roll out to about a 12×8 size. Spread 1 tablespoon of sugar and 1 teaspoon of cinnamon on one half of the dough and fold the dry side over. (I mix the sugar and cinnamon together first.)
Roll the 6×4 rectangle out to about to about 8×6 and put the last two tablespoons of sugar and the last teaspoon of cinnamon on one half and fold it over again. Pinch the edges of the open sides as you shape the whole thing into a circle. Place it on a baking sheet lined with parchment or a silpat. Cut it into six pieces and gently separate them so they are about an inch apart.
Sprinkle with a little more sugar and cinnamon. Bake 15-17 minutes.
Start to finish, each of these recipes takes about a half an hour. One of the main things they taught me is there is more than one way to make a good scone. And however you pronounce it, it's not long before these things are gone.
Peace,
Milton