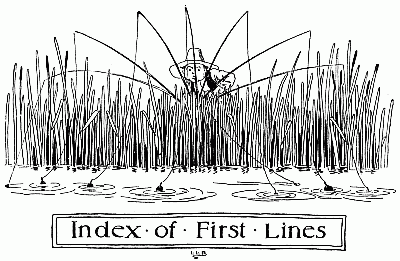 I started playing with words others have written that have become inscribed on my life for one reason or another. It was a nice distraction as I prepare for my surgery on Wednesday and turned out to be fun as well.
index of first lines
I pulled into Nazareth was feeling 'bout half past dead
doctor my eyes have seen the years and the slow parade of tears
headlights are flashing down the highway
I wonder if we're gonna ever get home
a look at you all see the love there that's sleeping
when you're down and troubled and you need a helping hand
keep a fire burning in your eye pay attention to the open sky
you who are on the road must have a code that you can live by
you come a-walking with a scar on your soul taking too much too lightly
I don't want to hear a love song I got on this airplane just to fly
like a bird on a wire like a drunk in a midnight choir
I have tried in my way to be free
there's a river of love that flows through all times
there's a river of sorrow in my soul
don't the hours grow shorter as the days go by
there are the ones you call friends
old friends sat on the park bench like bookends
another turning point a fork stuck in the road
people get ready there's a train a-comin'
you can play the game and act out the part
when you know it wasn't written for you
baby I've been searching like everybody else
in the middle of late last night I was sitting on a curb
where have all my friends gone? they've all disappeared
I'm going down to the Greyhound station
gonna get a ticket to ride
I've been sleeping for some hours
just woke up and you were there
when the road gets dark and you can no longer see
in every heart there is a room a sanctuary safe and strong
didn't say we wouldn't hurt anymore
that's how you learn, you just get burned
people that are sad sometimes they wear a frown
the secret of life is enjoying the passing of time
I've heard love songs make a Georgia man cry
you with the sad eyes don't be discouraged
when it's dark outside you've got to carry the light
the waltzing fool he's got lights in his fingers
shut it down and call this road a day
we're living in a time of inconvenience
you come home late and you come home early
we are swimming with the snakes at the bottom of the well
all the unsaid words that I might be thinking
it was all I could do to keep from crying
the presence of your absence follows me
something in your eyes makes me want to lose myself
here we go again another round of blues
am I young enough to believe in revolution
when you start if you exist God believes in you
oh play me a blues song and fade down the lights
so many years so many hardships
in this world there's a whole lot of trouble, baby
it's like when you're making conversation
and you're trying not to scream
I found your letter in my mailbox today
late night drives and hot french fries
and friends across the country
I've been lately thinking about my lifetime
I can hear her heartbeat from a thousand miles
I've been down this road before
Peace,
Milton
---
Also published on Medium.