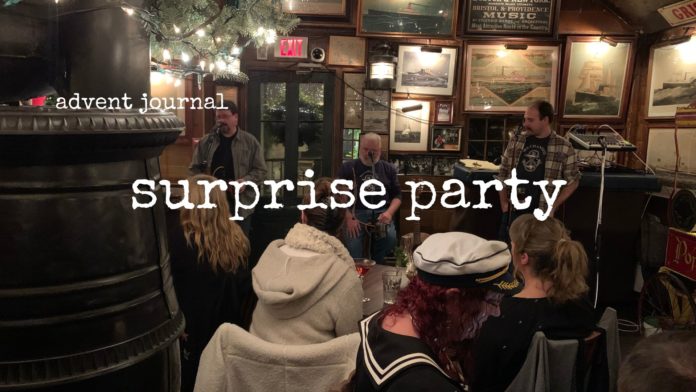 Today was my birthday, so I'm am finding my way to the keyboard in the waning moments to say I am glad to be alive and aging.
Birthdays at our house are intentionally surprises. The person being celebrated is given information about the day on a need to know basis. For me, that meant leaving the house at a little before 7 to meet a friend for coffee, who was then succeeded by another friend around eight who handed off to another friend who walked me home. And then we went to breakfast.
Then came the evening. We left the house about four and drove up to Essex, Connecticut, which is about twenty minutes from Guilford. We stopped at a small artists' co-op to see the results of people's creative expressions (and I got a Brie baker) and then we drove down Main Street and walked into a restaurant/bar called the Black Seal to "have a drink and a snack," per Ginger's instructions. We shared Buffalo wings and each got a drink.
We hung out for a bit and then walked farther down Main Street until Ginger decided we should go into the Griswold Inn. It was not as impulsive a decision as it seemed. We ate dinner and then, when it came time to go to the next place, we walked about ten feet into the Tap Room where Ginger told me we had arrived. A couple of other friends surprised me, but that was not all of it. About 8:15 four men took to the mics and began to sing sea shanties. The band is called The Jovial Crew. For the next two hours we listened, clapped, and sang along.
We left at the end of the first set and went back to the Black Seal where we met John, who was being the bar, Tony, who was sitting next to me, and Ellen, who came in later. We shared stories and they all wished me a happy birthday, which indeed it was.
I wrapped up my sixty-sixth year with good food, good friends, songs of the sea, and stories from people I had never met, all because of the woman who loves me so much that she made it happen. After half my life with her, Ginger still catches me by surprise.
That's the best gift of all.
Peace,
Milton
Thanks for reading. For the month of December, my book, The e-book version of The Color of Together is 99 cents at Amazon. Please check it out. Also, You can also subscribe to my free weekly newsletter, mixing metaphors. It comes out every Tuesday. Both my newsletter and blog are free and ad-free. If you would like to support my writing, you can become a sustaining member.
---
Also published on Medium.