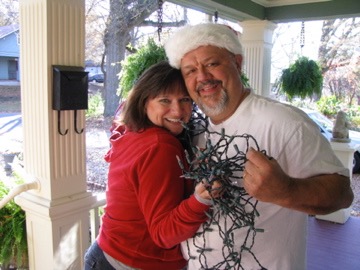 I could blame it on somebody, but I'll just fess up instead: I've watched my share of Hallmark Christmas movies. Though I love a good character-driven, emotional landslide where nothing much happens other than profound sadness, I get hooked waiting for the two people to figure out they were meant for each other and go running back to find one another as the snow falls on Christmas Eve. After you sit through a few of them, you start to believe there's a lot of love out there.
I know. This is where I turn back on the movies and say neither life nor love is really like that, but I wasn't just setting the movies up so I could knock them down. I mean I'm the guy who went to lead the music for a midwinter youth retreat the last weekend of January in 1989 and looked across the room and saw Ginger with the folks from Royal Lane Baptist Church in Dallas. We were a few minutes away from starting to sing, but I made time to introduce myself and ask if she was with Royal Lane ("I used to go to church there."), and ask what she did (she was doing CPE at Baylor Medical Center in Dallas—"I did CPE there."), and then I spent as much time as I could the rest of the weekend. I got home from the retreat on Sunday afternoon and called her that night and asked her to go with me to see Lyle Lovett at the Caravan of Dreams in Fort Worth the next weekend. I had already bought the tickets as a birthday present for my friend Billy, who was going to drive up from Austin. When she said yes, I called him and said, "I'll get you something else; I met a girl."
Lyle was playing on Sunday night. And the church where I was youth minister had a Sunday night service. The plan was I would drive to her apartment in Arlington right after church and we could still make the show. That Sunday, an ice storm hit and church was cancelled, but not the concert or our date. I slid my way in my Toyota Tercel to get her and we started our life together that frozen night. If it had all happened just one month earlier, it would have been an awesome Hallmark movie.
If there was going to be a turn in this post, I suppose this would be the place where I say something about romance not being real love. Maybe another time. Tonight I want to talk about the romance. The way it makes the people in the Hallmark movies take chances, or swallow their pride, or believe something out of the ordinary might happen.
One of our Christmas traditions is watching Scrooged, Bill Murray's take on Charles Dickens' A Christmas Carol. Murray plays Frank Cross, Ebenezer Scrooge as a network television executive, who gets visited by the ghosts and then comes to himself, as they said of the prodigal son, with this speech:
I'm not crazy. It's Christmas Eve. It's the one night when we all act a little nicer.
We . . . we smile a little easier. We . . . we . . . share a little more. For a couple of hours we are the people we always hoped we would be. It's really a miracle because it happens every Christmas Eve. And if you waste that miracle, you're gonna burn for it. I know. You have to do something. You have to take a chance and get involved. There are people that don't have enough to eat and who are cold. You can go and greet these people. Take an old blanket out to them or make a sandwich and say, "Here. l get it now."
That right there is why these movies hook me: the there-I-get-it-now moment, and then that there is time for them to circle back on their mistake, or their stupidity, or their pride and let love get the best of them.
So i'm down to the last paragraph and this really did turn out to be the gospel according to Hallmark. I think I am as surprised as you are. It's not the whole story, but it's a good one. Sometimes for love to find us, we have to get out of our own way. Sometimes what we are looking for is right in front of us. Sometimes, when you walk across a room and introduce yourself, it turns into a lifetime. Wait—that's a different channel . . . .
Peace,
Milton