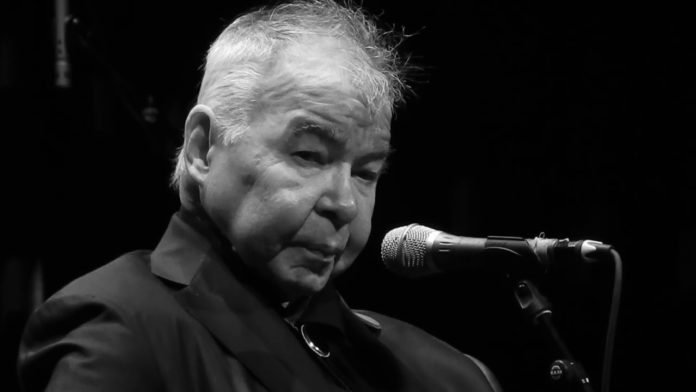 I had some things in mind when I sat down to write, but then I saw the news that John Prine is in critical condition and on a ventilator with Covid-19. Though I do not know him personally, he feels like a friend because of the impact his words and music have had on my life. So tonight I want to offer a small collection of his songs. I have spent the last couple of hours listening to songs and looking for videos to share. I could go on all night, but I am going to stop and share some of what I have found.
I am going to start with my favorite song. Period. "Angel from Montgomery." One of my favorite memories of singing this song was that I introduced it by saying, "I think I relate to this song more than any song I know." Then I sang the first line: "I am an old woman named after my mother." Even though I had a good laugh at myself I stand by my statement.
there's flies in the kitchen
I can hear 'em a buzzin'
and I ain't done nothin'
since I woke up today
how the hell can a person
go to work every morning
and come home every evening
and have nothing to say
make me an angel that flies from montgomery
make me a poster of an old rodeo
just give me something I can hold on to
to believe in this living is just a hard way to go
Here are Bonnie Raitt and John singing it together.
One of the strengths of his songs is his ability to paint pictures of people. He can make you feel something without telling you to feel it. "Hello in There" is a great example.
we had an apartment in the city
me and Loretta liked living there
well, it'd been years since the kids had grown
a life of their own left us alone
John and Linda live in Omaha
and Joe is somewhere on the road
we lost Davy in the Korean war
and I still don't know what for, don't matter anymore
you know that old trees just grow stronger
and old rivers grow wilder every day
old people just grow lonesome
waiting for someone to say, "hello in there, hello"
He can write a pretty good love song, too. Though he seems pretty tough, there is a tenderness to his words that ring true. This is "Long Monday."
soul to soul heart to heart and cheek to cheek
come on baby give me a kiss that'll last all week
the thought of you leavin' again brings me down
the promise of your sweet love brings me around
it's gonna be a long Monday
sittin' all alone on a mountain
by a river that has no end
it's gonna be a long Monday
stuck like the tick of a clock
that's come unwound again
He also has a good sense of humor that shows up in all sorts of ways, at times more subtle than others. "Fish and Whistle" is one of the softer ones.
I been thinking lately about the people I meet
the carwash on the corner and the hole in the street
the way my ankles hurt with shoes on my feet
I'm wondering if I'm gonna see tomorrow
father forgive us for what we must do
you forgive us and we'll forgive you
we'll forgive each other 'til we both turn blue
and we'll whistle and go fishing in heaven
John released an album of new songs in 2018 called The Tree of Forgiveness. One of the most powerful songs is "Summer's End," which is a song of grief. The video speaks to the pain of the opioid crisis on so many families.
the moon and stars hang out in bars just talkin'
I still love that picture of us walkin'
just like that ol' house we thought was haunted
summer's end came faster than we wanted
come on home come on home
no you don't have to be alone
just come on home
Prine was working as a mailman when he first started singing, as me mentions in this clip. He wrote the song "Souvenirs" as a young man, but the older I get the more the words mean to me.
all the snow has turned to water
christmas days have come and gone
broken toys and faded colors
are all that's left to linger on
I hate graveyards and old pawn shops
for they always bring me tears
I can't forgive the way they rob me
of my childhood souvenirs
memories they can't be boughten
they can't be won at carnivals for free
well it took me years to get those souvenirs
and I don't know how they slipped away from me
Let last two songs are hymns to me. The first, "Boundless Love," also from his last album is about as gospel as it gets.
sometimes my old heart is like a washing machine
it bounces around 'til my soul comes clean
and when I'm clean and hung out to dry
I'm gonna make you laugh until you cry
surround me with your boundless love
confound me with your boundless love
I was drowning in the sea, lost as I could be
when you found me with your boundless love
I first heard "The Speed of the Sound of Loneliness" on Nanci Griffith's record Other Voices, Other Rooms, which was a recording of some of her favorite songs. The metaphor in the title describes how hard we work sometimes to keep others from reaching us.
you come home late and you come home early
you come on big when you're feeling small
you come home straight and you come home curly
sometimes you don't come home at all
so what in the world's come over you
and what in heaven's name have you done
you've broken the speed of the sound of loneliness
you're out there running just to be on the run
The song became a hymn for me on a road trip when I realized I could sing the words to one of my favorite hymns to the melody of this song and then go into the chorus in a way that expanded both songs.
prone to wonder Lord I feel it
prone to leave the God I love
here's my heart o take and seal it
seal it for thy courts above
so what in the world's come over you
and what in heaven's name have you done
you've broken the speed of the sound of loneliness
you're out there running just to be on the run
I post these songs tonight in hopes we can celebrate his recovery and in gratitude for his words and music. They have been one of the things I have held on to.
Peace,
Milton