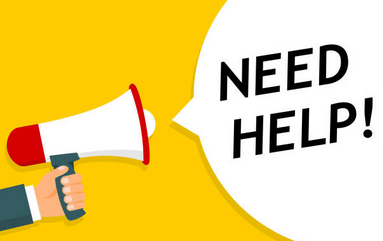 I went to the grocery store on my lunch hour because we were out of milk, which meant my mother-in-law couldn't drink her coffee. I circled through The Fresh Market and picked up some chicken and ground turkey, a can of great northern beans, and some green beans, paid for my groceries and got all the way to the car before I remembered the milk. So I went back, got the milk, and got back in line with the same checker just for fun. Three lanes were open with a couple of people in each line. It was not crowded, and it was obvious where to stand. Yet, as I was leaving, I realized a man was standing with a cart at the farthest register, which was unopened, looking at the rest of the lines, and shouting, "Help! Help!"
As I got to the door, I heard one of the checkers say, "Over here."
His plea reminded me of something I read earlier in the morning. After my post last night, an amazing number of you responded with words of affection and solidarity and it buoyed my spirit such that I was able to get up and write my Morning Pages and read a chapter in one of the books that has been sitting there for weeks: How Not to Be Afraid by my friend Gareth Higgins. What came to mind was a paragraph about prayer.
Sometimes I think it works. I can't comprehensively define prayer, but it does seem more necessary to do it than to understand it. It's not merely–or even mostly–about asking for things. Instead, I think prayer is joining what's already unfolding in the spirit of authority and love, protecting vulnerable people and the earth, and being willing to act with that spirit.
As one who has never understood prayer and struggled to understand what happens when we pray, to read "it does seem more necessary to do it than to understand it" gave me hope. To pray is to trust. To connect–with God, with one another, with the fabric of the universe. To pray is to not be alone.
One of the blogs I follow is called Radical Discipleship, a blog that offers a wide variety of theological perspectives and insights. About a month ago, they published a post by Bayo Akomolafe, a Nigerian philosopher and activist, entitled "Other Vehicular Pathways of Prayer." I started reading it because I had never seen the words vehicular and prayer in the same sentence. The article is fascinating and dense and, well, philosophical. He says,
Recently, I have been thinking about the binary terminal points of prayer, wondering whether desire is doing more things than traveling down a double-lane highway that leads to one of two possible answers: yes or no. What if there are other vehicular pathways of prayer in its many modes of migrancy? What if prayer doesn't just go northward, but side-ward, soil-ward, stone-ward, and awk-ward?
Like I said, his writing is philosophical–and I love the thought of prayer goes side-ward and soil-ward and stone-ward and awk-ward. It makes me think of what I have learned from Tom, my garden buddy, about the ways that trees talk to each other and the nutritional conversation that takes place in the soil and connects everything. Like Gareth said, prayer is joining what's already unfolding.
Last night it was me calling, "Help! Help!"–my prayer–but the lane wasn't closed. I have stayed teary-eyed most of the day reading comments on the blog and on Facebook, answering texts and phone calls, love coming at me from every direction, as well as words of resonance as others opened their hearts to say they were crying, "Help! Help!' also, but instead of "Over here" they said, "I'm here."
Today I wrote, I read, I kept my promises at work, I cooked for my family, and I took a walk in the September sunshine. I was able to do it because love bombarded me even though I saw or spoke to only a few people. Love came across miles and years to find me, to connect me, to remind me that asking for help is good work.
Peace,
Milton