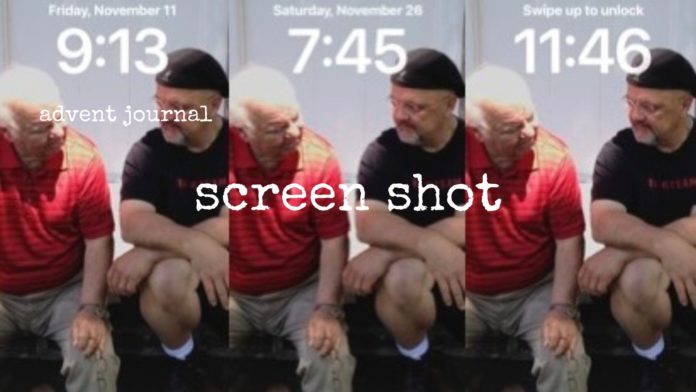 It turns out that the shortest day of the year is also the birthday of a number of people who matter to me, and two of them live Guilford. Ginger and I went to celebrate them and then stopped on the way home to celebrate some time together. It was only after we got home did I find out that CBS had aired "Homeward Bound: A Grammy Salute to the Songs of Paul Simon." Tonight, as I sat down to write, I searched for it and found the entire concert at CBS.com and put off writing for awhile.
Paul Simon has been writing and performing songs my entire life. Literally. He and Art Garfunkel started singing together in 1956, when Simon was fifteen. By the time I was fifteen, they had released Bridge Over Troubled Water, their last album together, and I was trying to learn how to play his songs on the guitar I got that Christmas. I learned quickly that even though he sang the truth, he used way more than three songs.
As I listened to a wide variety of artists perform Simon's songs tonight, I thought a lot about my father, which caught me by surprise a bit. The more I thought about it, however, it made sense because Simon and Garfunkel were the soundtrack of my growing up. I loved the harmonies to begin with and grew into the lyrics. And Dad liked a number of the songs as well. Because of the years we spent together as a family in Zambia and Kenya, he loved Graceland.
Maybe I also thought about my father because he had already showed up a couple of times today. The cover photo on my phone is a picture of the two of us talking as we sat on a stone step at a park of some sort near Princeton, New Jersey where the family had gathered for my nephew's graduation from Princeton Theological Seminary in May, 2012. Neither of us knew that Ginger took the picture. When Dad died the following summer, I made it the cover photo on my iPhone and it has stayed there ever since. Quite regularly, I manage to take a screen shot as I put my phone in the tech pocket of my jeans. My photos have random copies of the picture with specific times and dates.
I did it twice today, making it look as though my father and I were together 11:46 and again at 1:15. When I scrolled back through my pictures I found four or five more, and then almost that many in the "recently deleted" file. Nine and a half years later, Dad keeps showing up.
I'm grateful.
Just recently I made the comment that I feel closer to my father now than I did when he was living. What I mean by that is, though he is physically dead, our relationship is still alive in my life. That a periodic photo of him shows up in my camera roll is an apt metaphor. The power of our memories are in how we remember them. He and I had a number of tough years and I wish he had found room in his theology to be more inclusive than he was. I don't mean I am glossing over that. What I am trying to say is I keep going back to those moments where we found each other, or the places where I can feel his influence on my life, and I dig in there, mining the memories for new insight and sustenance.
The opening and closing tracks to Simon and Garfunkel's Bookends album were versions of the same song, also called "Bookends." It was a simple, rather haunting guitar line and these words:
time it was
and what a time it was
it was
a time of innocence
a time of confidences
long ago it must be
I have a photograph
preserve your memories
they're all that's left you
Simon was probably twenty-five or so when he wrote them, along with a line from another song on the record called "Old Friends."
can you imagine us years from today
sharing a park bench quietly
how terribly strange to be seventy
I suppose it's terribly strange to be most any age, and often difficult to put ourselves where we have yet to be, or perhaps where we were long ago. We live from one screen shot to the next, stitching them together into a life, tethered to our memories.
When I was twelve listening to Bookends, I couldn't imagine my father and I as men sitting side by side on a stone step next to the Delaware River, yet we somehow managed to get there, together.
I am grateful he keeps showing up.
Peace,
Milton
Thanks for reading. For the month of December, my book, The e-book version of The Color of Together is 99 cents at Amazon. Please check it out. Also, You can also subscribe to my free weekly newsletter, mixing metaphors. It comes out every Tuesday. Both my newsletter and blog are free and ad-free. If you would like to support my writing, you can become a sustaining member.
---
Also published on Medium.