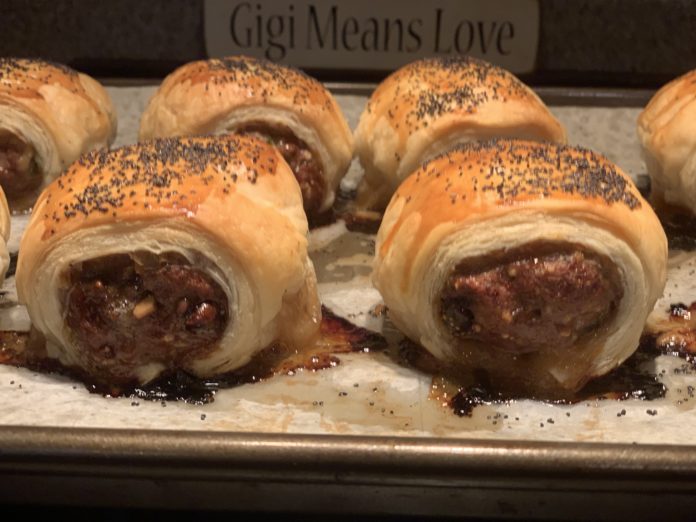 Sometimes I cook things because I really want to cook something and I go get the ingredients I need. At other times, I come across ingredients and then figure out what to cook with them. This recipe falls into the second category, which is more fun for me in many ways because it is more of an adventure.
We have a wonderful store on the Green called The Marketplace at Guilford Food Center. The long name is a nod to its history. The Guilford Food Center was the town grocery store for many years, complete with deli and butcher counters. The husband of the couple who owned if for several decades died and they sold the store to someone who worked hard to keep the spirit of the place, even as it became a bit more of a coffee shop and prepared foods place. The sandwich counter expanded and the butchery stayed, staffed by one of the sons of the original owners.
I love the butcher, Ron, because he knows what he's doing and he and Lou, his colleague, will cut what you need. They make a custom burger mix for me (half ground chuck, half ground brisket), cut the best chicken cutlets in town, and–here's where we finally get to the recipe–keep ground lamb in stock.
The second serendipitous step in this journey was this recipe for lamb sausage rolls in the cooking section of the New York Times. I think I have made these three times over the last month. They reheat well (in the oven, not the microwave) and provide me a good nutritious breakfast for several days in a row.
Like many of my recipes, I am offering you a template more than a strict directive. The original recipe calls for almonds, which I often use, but I also have used whatever nuts I have on hand. My latest version has pine nuts because I had some. The original calls for a small onion, diced, but that doesn't fly at my house, as you know. I mostly use fresh peppers–poblanos or jalapeños–rather than jarred red peppers because I like the extra heat and because I like fresh peppers. I don't have currants in my pantry as a rule, but I do have dried figs, so that's another change I made. For that matter, you could use ground beef or pork instead of lamb. Keep the ratios intact and you have lots of room to play.
lamb sausage rolls
¼ cup slivered almonds
1 tablespoon extra-virgin olive oil
1 jalapeño or poblano pepper, diced (and seeded, if you want less heat)
2 garlic cloves, minced (okay–I use at least three)
1 tablespoon harissa paste
1 ½ teaspoon kosher salt
1 pound ground lamb (or beef, dark meat turkey or plant-based meat)
¼ cup uncooked couscous
⅓ cup dried figs, diced
½ teaspoon freshly ground black pepper
1 (14- to 16-ounce) package frozen puff pastry, thawed but still cold (see note)
1 egg, beaten, for egg wash
Poppy seeds, for sprinkling
Heat oven to 375°.
Sprinkle the almonds on parchment-lined baking sheet and roast until they just start to brown–about 5 minutes. Pour the nuts onto a cutting board or a plate to cool. Save the baking sheet and parchment; you'll use them to cook the rolls.
In a skillet, heat the olive oil over medium heat. Add the peppers and let them cook for three or four minutes until the soften a bit. Add the garlic and cook another minute, then add the harissa and the figs and cook for another two minutes. While that is cooking, coarsely chop almonds and place in large mixing bowl. Add the pepper-harissa mixture to the bowl with the nuts and let cool slightly. Then add ground lamb, couscous, currants, pepper and salt. Using your hands, mix thoroughly until well combined.
Spread out the chilled puff pastry dough into a rectangle and cut the pastry into eight equal rectangles. In the center of each pastry, put an eighth of the lamb mixture, and then form it into a long sausage that runs from side to side of the pastry strip. Lightly brush one long edge of the pastry with egg wash. Fold the side without the egg wash over the meat filling so it comes about half way and then fold the other side and seal it. (The ends will be open.) Place the rolls on the prepared baking sheet, seam sides down. Brush the top of each roll with egg wash and sprinkle with poppy seeds.
Bake until sausage rolls are golden brown, about 35 to 40 minutes. Serve warm or at room temperature.
NOTE: Dufour and Pepperidge Farm are the two brands of frozen dough I usually find. The Fresh Market in our town has Wewalka fresh puff pastry, which I like because I don't have to remember to thaw it the day before.)
I'm already thinking about breakfast tomorrow.
Peace,
Milton