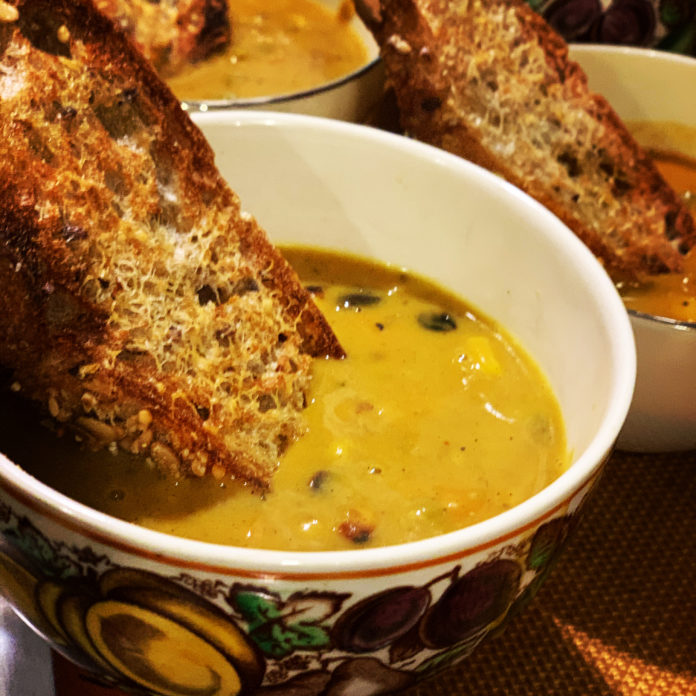 You may notice that the site looks different than before. I am in the middle of a number of changes—many of which I don't yet know how to make. One of the changes is to get back to posting recipes. For now, rather than posting them on my recipe blog that has been quiet for far too long, I will post them here. When the site is in full bloom, the recipes will have their own page. For now, I give you pumpkin-corn chowder, mostly because several people saw my Instagram post from our Barn Dinner and asked for the recipe.
I love making soup.
One of my jobs at the restaurants in Durham, North Carolina (I have to be specific; the town next to us in Connecticut is also Durham.) was to make two soups everyday. I was expected to make use of whatever I could find in the walk-in refrigerator or the pantry. Though I went searching on the Web for recipes, I never followed them exactly. They were inspiration more than instruction. This soup is much the same. I had corn and beans and pumpkin. I found this recipe and then went from there to make the soup I served for our Barn Dinner.
Soup-making is very personal to me, which is to say consider the amounts as suggestions. If you like another vegetable in your chowder, then make it your chowder. If you want to use some sort of stock instead of the water, do that. If you want to use heavy cream instead of coconut milk, do it. The original recipe has potatoes, but I chose not to use them. I can't cook with onions or onion powder because Ginger is allergic, so I use more garlic and spices and look for other ways to flavor.
One of the extra steps I took with this recipe was to roast the corn first. I did it in batches in my cast iron skillet (which means only put in as much as loosely covers the bottom of the skillet) with a minimal amount of oil and I added the cumin here. I put the pan over high heat and let the corn cook until it caramelized a good bit and then set it aside.
I also make sure the celery and carrots are diced very small. I like the flavor, but I also sort of want them to dissipate into the soup as it cooks. (The same would be true for onions, if I could use them.)
Pumpkin Corn Chowder
olive oil
1 1/2 cups corn (can be two small packages of frozen)
2/3 cup diced white onion
6 garlic cloves, minced
3 large carrots, diced small
4 stalks of celery, diced small
2 teaspoon cumin (could also add chili powder, oregano, thyme)
1 can black beans, drained
1 15-ounce can pumpkin puree
1 can coconut milk
salt and pepper, to taste
water, as needed

Roast corn in a cast iron skillet or sauté pan over high heat. Sprinkle with cumin. Do it in batches as described above. Set aside.
In a soup pot, heat olive oil to medium high heat and then add celery, carrots, and garlic. Once the vegetables are coated with the oil and beginning to cook, add cumin and other spices. Keep covered, but stir occasionally. Lower to medium heat and let them cook until the vegetables are pretty soft, about 8-10 minutes.
Add enough water to cover the bottom of the pot to about a half an inch and stir to deglaze the pot and unstick whatever has stuck to the bottom. Then add corn and beans. Cover and let cook for about 5 minutes.
 Add pumpkin purée and coconut milk and bring the mixture to a simmer. Let it simmer for at least 15 minutes. Salt and pepper to taste. If you leave it uncovered, it will reduce and thicken a bit. If it feels too thick, you can add more water, just do so incrementally so it doesn't thin out too much.
You can eat it after it has simmered for 15-30 minutes. (Of course, taste it and see if the seasonings need to be adjusted.) After 15 minutes, I would let is simmer, but I would cover it again so it doesn't reduce too much.
When you're ready, ladle it into bowls and enjoy. We served it with a sliced baguette that we sliced, drizzled with olive oil, and toasted in the oven.
Peace,
Milton