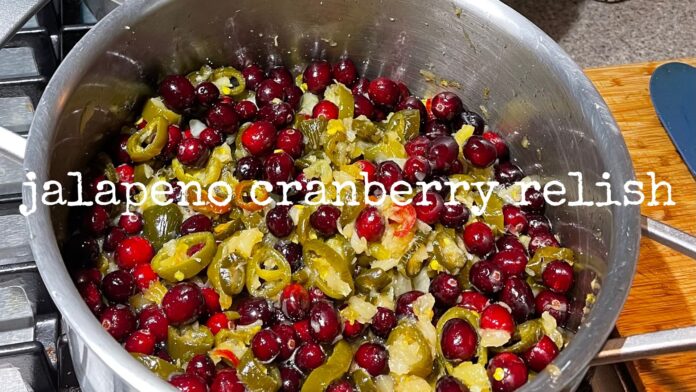 Years ago, my mother sent me a recipe that I have since seen named "cry babies" or "candied jalapeños"–basically it involved adding crushed pineapple and sugar to a jar of pickled jalapeños and cooking them till they were happy together. It's a good recipe. I've made it many times.
A few years later, I wondered what a Thanksgiving adaptation of that recipe might taste like, and by that I mean what would happen if I added cranberries to the mixture.
Short answer: it rocks.
I have since tried to come up with a cute name, but to no avail, so I'll stick with a descriptive one.
jalapeño cranberry relish
1 16 oz. jar of pickled jalapeños
1/2 cup sugar
2 8.25 oz cans of crushed pineapple
1 dry quart fresh cranberries
1 cup water (or a liquid of your choosing)
Dump them all together in a saucepan and cook over medium heat until the cranberries burst and most of the liquid is absorbed. Stir occasionally with a wooden spoon to crush the berries. Let the mixture cool and then put it mason jars to keep. The recipe makes enough to share.
Peace,
Milton