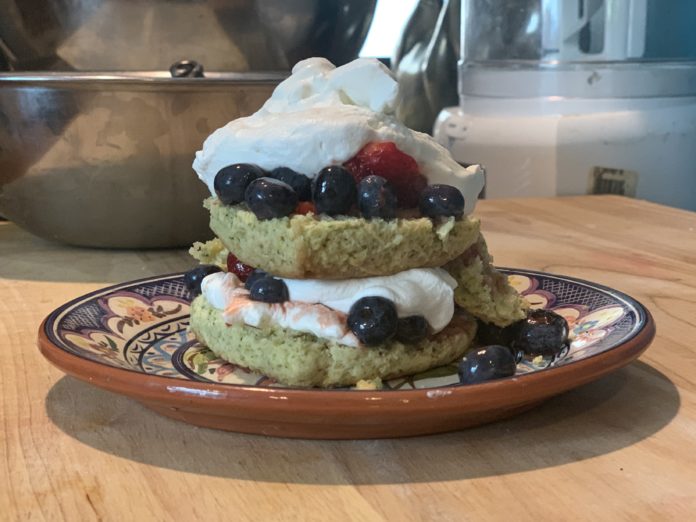 When my parents married, they knew they were moving to Africa less than a year later. My father did not have much when it came to family. His mother died a month after he was born and his father was an itinerant minister and church planter, so his grandmother, Ma, raised him. His father remarried when my dad was about ten to the woman I knew as "Grandma C," but my dad still never had much of a sense of home. His father died before my parents were married.
My mother asked him if there were any recipes from his childhood that he wanted her to learn. The only one was Ma's strawberry shortcake. When Mom asked for the recipe, Ma gave it as a list of ingredients without quantities. My mother had to figure those out over the years. And she did. Our house in Nairobi was around the corner from a strawberry farmer. When it was berry season, Mom made the biscuits big and the shortcake was all we had for dinner.
I know very little about my ancestry other than what I have written here. A couple of weeks ago, I ended up in an ancestry.com wormhole and was amazed what I found. I now know that my grandfather, Milton I, is buried in Austin and my dad's birth mother, Bertha, is in San Antonio. I also learned my grandfather had siblings and the names of his parents, Howard and Mary. Howard was murdered one Christmas Eve when he inadvertently surprised some cattle rustlers; my grandfather was a child. It seems all three Miltons in my family have struggled to know what family feels like.
Though I have not had much genealogical information, I do have recipes from my mother and her mother, in particular. Over the years, the strawberry shortcake has become our July 4 food for our chosen family who have gathered at our various houses. As I learned more about cooking, I adapted the recipe. My main contributions has been to add fresh basil to the shortcakes and to macerate the fruit in balsamic vinegar and sugar.
Ma and I got to meet each other before we moved to Africa. I was an infant, so I don't remember the encounter. She died before we came back on leave when I was four. I am grateful that some sixty years later her recipe gives me a deep and flavorful connection to a family I never really knew. A taste of family.
strawberry shortcake
1 pint strawberries, hulled and sliced
(you can also add blueberries or other fruit)
2 teaspoons balsamic vinegar
2 teaspoons sugar
1 teaspoon lemon juice
2 cups flour
4 teaspoons baking powder
1/2 teaspoon salt
4 tablespoons sugar
a big handful of basil
1/2 cup butter, cold and cubed
3/4 cup milk
1 pint heavy whipping cream
1/4 t cinnamon
1/2 teaspoon vanilla
1 teaspoon confectioner's sugar
For the fruit: In a medium-sized bowl, combine the strawberries, vinegar, sugar, and lemon juice. Cover with plastic wrap and set aside. The more time you give it, the better, so try to do this an hour or so before you actually want to serve the shortcakes.
For the shortcakes: Preheat the oven to 450°.
In a food processor, combine flour, baking powder, salt, sugar, and basil. Pulse until basil is completely mixed in. Add butter and pulse until the mixture looks like coarse sand, then turn on the processor and stream in the milk until it is all combined.
Dump it out on a floured surface and fold it over on itself until it takes a fairly firm shape. Roll it out into a rectangle about 1/2 inch thick. I cut it into twelve square biscuits, but you can make them larger or smaller. Place on a baking sheet lined with parchment or a Silpat and bake for 12-15 minutes. Biscuits will still feel a little soft, but will be browned around the edges and a little on top. Place the baking sheet on a cooling rack and let them biscuits cool.
For the whipped cream: Combine the last four ingredients in a stand mixer or a deep mixing bowl where you can use a hand mixer. If you are using a stand mixer, you will need to wrap the top with plastic wrap so you don's spray cream all over your kitchen. Whip until it looks like whipped cream.
To serve, cut the shortcake in half. Put a small dollop of whipped cream on the plate and place the bottom half of the biscuit on the plate. (The whipped cream just keeps it from sliding around. Put a generous spoonful of the fruit and its juices on the biscuit and then top with a dollop of whipped cream. Take the top of the biscuit and place it cut side up on top of your work-in-progress. Add more strawberries and more cream.
I hope whoever is gathered at your table for this meal has a family food story to tell of their own.
Peace,
Milton