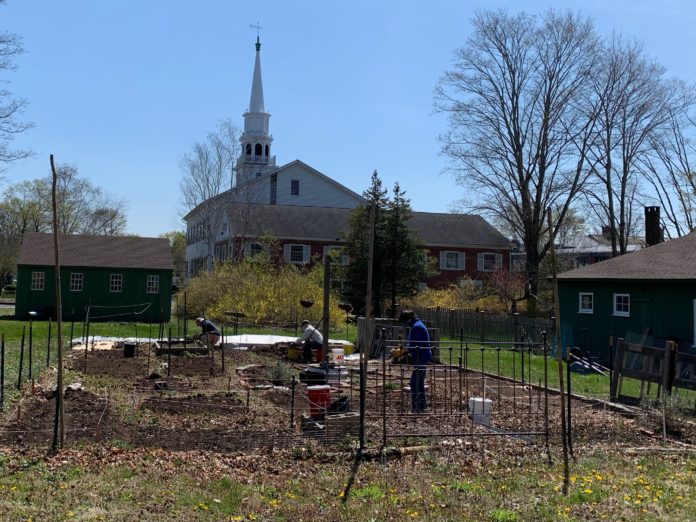 I am still getting used to Sundays being a day with space.
Almost thirty years of being married to a pastor has me well-conditioned to Sunday being a work day, even if it's not my job. But for the last six Sundays, we have had time to be together for meals, for walks, for whatever we choose. I miss being at church and I am grateful for the unexpected blessing.
We had a sunny Sunday in Guilford. It is April in New England, so it wasn't warm, but it was sunny. I worked in the garden when I would have been in worship otherwise and then Ginger and I took a long walk late this afternoon. As we walked, I said, "I think I am going to do a music post tonight. It seems like a good day to pass along some some songs."
So here you go.
Paul Simon is one of my favorite song writers and "The Boy in the Bubble is one of my favorite songs of hope in the midst of hopelessness.
these are the days of miracle and wonder
this is the long distance call
the way the camera follows us in slo-mo
the way we look to us all, oh yeah
the way we look to a distant constellation
that's dying in a corner of the sky
these are the days of miracle and wonder
and don't cry baby, don't cry
don't cry, don't cry
Here are Chris Thile and the band from Live from Here with an impassioned cover of the song.
And now for a couple of songs of pure enjoyment. The Petersens are a family bluegrass band that are all good players and have that wonderful family harmony. Here is their cover of Michael Martin Murphy's "Carolina in the Pines." No need to print the lyrics; just enjoy.
The next song is like unto the last. Molly Tuttle is another one who grew up playing music with her family and has not gone out on her own. This is her version of a song made famous by Glen Campbell–"Gentle on My Mind."
We come now to the humorous portion of our program, which is also great music. Steve Martin plays with a great band called the Steep Canyon Rangers. Concerned that not everyone has a song to sing, they offer "Atheists Ain't Got No Songs."
Ages and Ages is a band I learned about several years ago. Their song "Divisionary" seems a good anthem for these days.
do the right thing, do the right thing
do it all the time, do it all the time
make yourself right, never mind 'em
don't you know you're not the only one suffering
Here is an NPR Field Recording from the 2014 Newport Folk Festival.
Lukas Nelson is the son of Willie Nelson. In late March of this year they recorded a song called "Turn Off the News and Build a Garden."
turn off the news and build a garden
just my neighborhood and me
we might feel a bit less hardened
we might feel a bit more free
turn off the news and raise your kids
give them something to believe in
teach them how to be good people
give them hope that they can see
hope that they can see
turn off the news and build a garden with me
I want to end with a couple of archetypal feel good songs. Playing for Change is an organization that records songs in a way that connects people over distance, both in playing and listening. Take a load off and listen to their cover of The Band's "The Weight," complete with Robbie Robertson playing along.
Grace Potter has one of the great voices of rock and roll. She will close us out with her cover of Bob Dylan's "I Shall Be Released," which The Band also sang. The words hold hope for us.
I see my light come shining
from the west down to the east
any day now, any day now
I shall be released
These are the days of miracle and wonder . . .
Peace,
Milton