For most of the past week I've been looking forward to a surprise.
Ginger told me she had an adventure planned for this morning. Last night she told me I needed to be ready to walk out the door at eight. I was, even though I had no earthly idea where we were going. We drove out highway 70 and then to I-540, which wraps north of Raleigh, following it until it ended into another state highway that took us down Lizard Lick Road and then one more turn that brought us into the heart of Zebulon, North Carolina.
As we drove, she would intermittently start laughing and say, "This may be the craziest thing I've ever taken you to do."
I was the navigator looking for 410 W. Gannon Street. Downtown was slipping by: the Family Dollar Store, the Dollar General, the Dollar Tree. As we approached a shopping center that was located about where I had discerned the  number of the address would be, I said, "Well, there's a Piggly Wiggly."
She started laughing again. "I'm taking you to the Piggly Wiggly." We had driven an hour to join in the celebration of the store's second anniversary. She had heard it advertised on a drive home from Charlotte last week. I've always been rather fascinated with the store. Most of it, I think is because of the name. I love the name. Two Christmases ago, she gave me a t-shirt. This morning she took me to an actual store. I was elated. And amused. My wife is awesome.
In the parking lot in front of the store was a big Trailways type bus tricked out to advertise North Caroli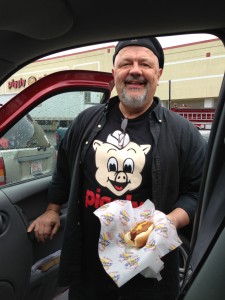 na agriculture, a giant grocery cart that had an engine in it, a tent for a local radio station that was giving away all kinds of swag, a fire truck, two food tents that had hot dogs and ham biscuits, and a refrigerated semi-truck with a "Truckload Meat Deals" banner down the side. Inside the store there were people at the end of almost every aisle with some sort of barbecue meat or sauce.
Trust me, it was worth the drive.
The assistant store manager was standing on the back of the meat truck when we walked up. He greeted us and gave us a tour of what was inside and told us about the store and their plans for the day. He was pride and enthusiasm were contagious. Inside the store, which still seemed shiny and new, the employees were engaging and fun. They seemed a little fascinated that we had driven up from Durham to take part in the festivities and they were happy to include us in what was mostly a hometown happening.
After we finished there, Ginger and I walked over to the Old Town Cafe across the street. As we drank our coffee, I said, "There's something wonderful about a town small enough to make a big deal about a grocery store's birthday." As my day went on, my words kept circling back and I began to realize those kind of personal connections are what matter most, regardless of how big the town is. I thought about how much fun we have had celebrating the opening of Cocoa Cinnamon or standing in line the first morning that Monuts was open — we were our own little Zebulon, gathered around our friends and sharing in seeing their dreams come true.
One of the things I learned about the folks from Midtown Fellowship in Nashville was they had decided the best way to grow in real community was not to see how big they could get, but to figure out ways to grow new connected congregations that let everyone be in a sort of small town church — not more than about 300 people. When they get bigger than that, they break off and start new neighborhood congregations to make being together a face to face proposition.
I'm a city guy. I love busy streets and bustling activity. I like living downtown and walking through the middle of everyone else's life, whether it be Boston or Durham. Much of what engages me is finding the community that exists in the midst of the apparent anonymity. The names we remember. The rituals we share. The way life becomes personal and connected. The way we learn to celebrate openings and anniversaries and other things that matter only to us. The best of life is built on parking lot celebrations and neighborhood block parties and things no one else knows about — unless of course, you're married to the amazing kind of person that thinks driving through Lizard Lick to get to the Piggly Wiggly Party is the stuff dreams are made of.
During our Poverty in Durham series, one of the presenters offered a familiar quote by Margaret Mead:
Never doubt that a small group of thoughtful, committed citizens can change the world; indeed, it's the only thing that ever has.
Even though we are still a couple of weeks away from the end of Lent and the return of our alleluias, I offer a paraphrase: never miss a chance to share in the joy of a small group of celebrating, enthusiastic people, because it's how we remember we were made to pull for each other. Let's look for reasons to throw a party, to offer an affirmation, and to cook hot dogs in the parking lot. Let's do all we can to foster and feed joy in one another, and to look for the small connections that keep the overwhelming nature of existence in perspective. And let's give thanks for those who will wake us up early to go to the Piggly Wiggly for no other reason than it seems like fun.
Peace,
Milton