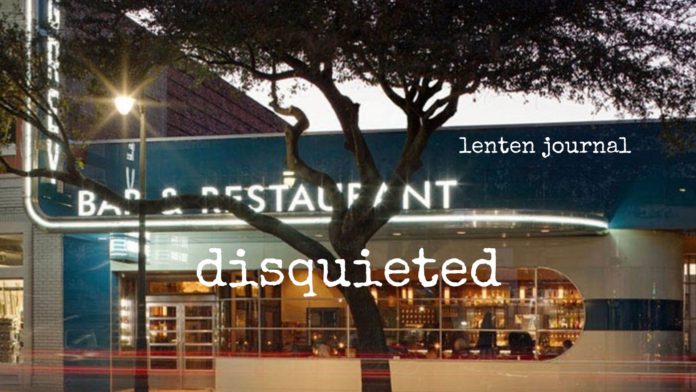 We flew to Savannah today.
This coming weekend is the annual Civil Rights History Trip that Ginger leads with a group from our church. In past years we have gone to Birmingham, Selma, and Montgomery; Richmond; Durham and Greensboro; Memphis; last year to Hartford and Boston; and this year to Savannah. Each year, Ginger and I go a day or two early to make sure all the details are in place. Since Avelo Airlines only flies from New Haven to Savannah on Mondays and Fridays, we have a bit more time.
On the flight down, I read a good chunk of Black, White, and the Grey: The Story of an Unexpected Friendship and a Beloved Restaurant. The book is written by the two co-owners, Mashama Bailey and John O. Morisano. She is the executive chef and he is the entrepreneur that bought the old Greyhound Station to turn it into a restaurant. She is Black and he is white. Their restaurant is closed on Monday and Tuesday. I will report on Wednesday, I hope.
Neither Mashama or Johnno, as he is called, are from Savannah but they found their way here to open The Grey. She had some family ties here and lived in the city for a short time as a kid. He came here as an adult. Both moved from New York. Part of their story, beyond their partnership and friendship, is about working to feel like they belonged here. In many ways, that has always been the story of those who came to this city.
I learned from the book that James Oglethorpe settled Savannah for King George II in 1733 with three distinct rules: no Jews, no Papists, and no slavery. For Oglethorpe and the other trustees of the colony of Georgia, these were prerequisites for the utopia they imagined they could create.
In the summer of that year, severe illness gripped the young settlement. Serendipitously, a ship carrying a group of Ashkenazi and Sephardic Jews landed seeking freedom to worship–and they had a doctor among them. Oglethorpe relented on the ban and welcomed the group. Congregation Mickve Israel is the third oldest synagogue in the US. However well-intentioned, the slavery ban was never enforced. About four hundred enslaved people lived in Savannah when it was founded and they were the ones who did the construction work to build the city and then were moved to work on farms. The Catholics were admitted because of General Casimir Pularski, a Polish Catholic soldier who fought against the British during the Siege at Savannah. Those who fought with him got to stay after independence. The Catholics and Jews assimilated into the city in ways the Black community did not, like most American cities regardless of location.
i put the book back in my bag as we landed. We got our luggage and found our way to the Rideshare Area where Muhammad, our Uber driver, picked us up to take us to our hotel. We shared the ride with a couple from our church who came early to have a few days to themselves, so I sat in the front seat on our ride, which meant I got to talk to Muhammad.
I learned he moved from Baltimore a couple of years ago and has traveled mostly up I-95 as far as Philadelphia, seeing Virginia and the Carolinas. He drives part-time and works in a lumber yard, but his main job is at Fort Benning, where he goes for two week stints with some regularity to teach troops about Islamic culture before they deploy to the Middle East. I asked if there was a significant Muslim community in Savannah and he said there were about 350 families and a mosque. I wondered what it was like to teach people about your culture and your homeland when you knew they were going there uninvited. I didn't ask.
I was disquieted. I felt grateful for the conversation, and I was troubled to think he was being used by the military for his knowledge even as he lives in a country where many will assume he is nefarious because of his name.
When we pulled up to our hotel I realized it was almost next door to The Grey. The window facing the street is just as it was when people came to catch buses. In those days, you would have looked in on the segregated lunch counter. Today it is a beautiful bar where anyone can sit. Both the hotel and the restaurant sit on Martin Luther King Boulevard, which is the western border of the Historic District. The two establishments sit in a liminal space between the high end tourist area and the projects and a neighborhood, I assume, is inhabited by many who keep the Historic District humming for tourists but who do not reap many of the benefits of the wealth displayed there.
Let me be clear: We are not here to learn about Savannah because none of these disparities exist in Connecticut. The biggest difference between Guilford and Savannah's Historic District is our restaurants don't stay open as late. Well, that and the people who work in our town but can't afford to live there have to travel farther than crossing MLK Blvd. The systems in our state that make sure we have "good schools" are well entrenched. We are here to learn more about who we are as we learn some of the stories of Savannah.
Disquietude is a good teacher.
Peace,
Milton