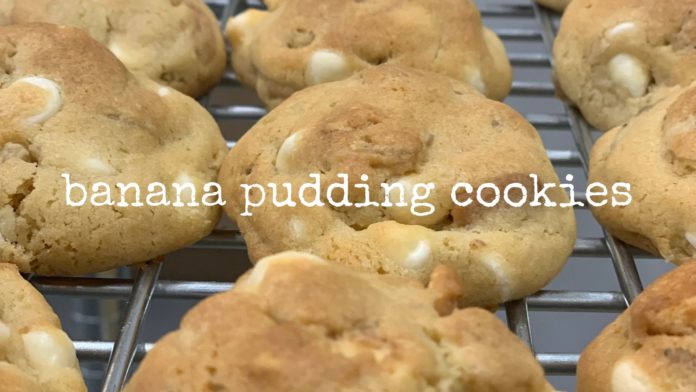 banana pudding cookies
I was invited by my friend Taylor Davis to be a part of an All Saints celebration at his church. During the past year, they have experienced a season of profound grief that included the deaths of two of their pastors. Taylor asked me to come and prepare a meal to go alongside Communion for their Saturday night service and he had the idea that we might make some of the pastors' favorite dishes, which included hot dogs, Thai food, red beans and rice, and banana pudding. Oh–it also needed to be pick-up food.
Working on the menu was a unique experience because I didn't know either of the pastors and was working to create a connecting experience for a congregation I didn't know either. What I do know is food sustains us not only physically but with deep ties to memory and relationship. I learned, once again, that the Internet is my friend when it comes to recipe ideas and, with the help of other people I have never met who are willing to share their knowledge and creativity, I put together a menu:
Thai-inspired hot dogs (we cooked the hot dogs and then dipped them in a peanut and coconut milk sauce and topped them with shredded carrots and scallions);
red beans and rice empanadas (we made the red beans and rice and then put it in egg roll wrappers that we folded into triangles and baked–wontonadas?)
banana pudding cookies (recipe below)
The meal was well received, but the best part of it, for me, was the prep time. Four folks from the church showed up a couple of hours early to help me cook and they brought great energy and ideas. Since all of the recipes were new to me, we had to problem solve and improvise. I had bought bags of slaw mix to add a salad element, but had no dressing. I also made too much of the peanut sauce, so that became the salad dressing–and it was really good. The first tray of cookies helped us learn we needed to flatten them a bit before they went in the oven.
Right before the meal, I read a poem of mine that was in Keeping the Feast:
congregation
God has made a habit of gathering
undesirables, the less than perfect,
or at least those as broken as they
are brazen – I could name names
but it serves just as well to look in
a mirror, or around most any room
filled with the fallen and faithful;
what privilege I enjoy I have not
earned; any hardship or suffering
I have endured was not inflicted;
what sense of belonging I have
known, what love I have found –
or has found me – came wrapped
in the dusty envelope of humanity,
fraught with fingerprints that point
to both a checkered past and a promise
that love binds us together because
it is not earned, but given and received.
Love binds us together; thus say the cookies.
banana pudding cookies
24 oz. butter (3 sticks), room temperature
1.5 cups brown sugar
.5 cup granulated sugar
2 tablespoons banana extract
4 large eggs, room temperature
4.5 cups all purpose flour (24.75 oz)
2 teaspoons baking soda
1 teaspoon salt
1 5.1 oz package Jell-O Banana Cream Pudding Mix
12 oz white chocolate chips
12 oz. dried banana chips
6 oz. mini vanilla wafers, crushed
Preheat the oven to 375°.
In a stand mixer, cream butter and sugars for about ten minutes, until light. Add eggs and banana extract and mix well.
In a separate bowl, combine flour, baking soda, salt, and dry pudding mix. Whisk to combine and then add to wet mixture. Mix just until everything is integrated. Depending on the size of your stand mixer, you can add the white chocolate chips, banana chips, and vanilla wafers, or you can transfer the dough to a large bowl and work them in by hand.
Scoop or pinch 2 ounce cookies and roll into balls. Place on a parchment-lined baking sheet and flatten a bit. Bake at 375° for 8-10 minutes, until tops begin to brown.
NOTE: Because of the pudding mix, these are naturally softer cookies, so they will be done before they feel done.
NOTE: This is a large recipe. You could half it if you want fewer cookies, which begs the question who wants fewer cookies?
The recipe lends itself to experimentation with other pudding flavors as well. Let me know if you try any.
Peace,
Milton
Thanks for reading. My website is free and ad-free because of the support of my readers. If you would like to become a sustaining member, click here. You can also subscribe to my free weekly newsletter, mixing metaphors.