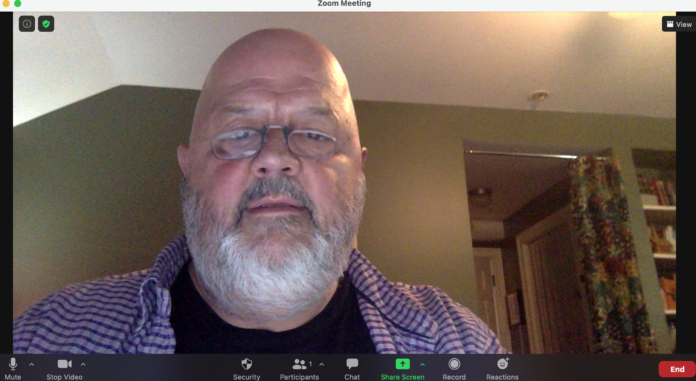 I don't know why the thought crossed my mind the other day, other than I had given myself time to do nothing and let my thoughts run unleashed for a bit. What struck me is not original, I'm sure, but it felt significant; it was this: any technological advance carries with it a corresponding dehumanization.
Then I sat there trying to prove myself wrong. I'm not sure I am.
Advances in technology have brought ways for us to get from one place to another more quickly, ways to communicate across greater and greater distances, ways to grow more food with less effort, ways to make things or build things faster and larger. Many of those things are good things. And they also insulate, distance, and fragment us as humans. Technology turns us into workers, consumers, and avatars. We have become human resources rather than people.
Wait. Before you bail in the rest of this post, let me get to my point: I don't like Zoom. It wears me out.
Somewhere recently I read something that talked about what made Zoom exhausting was that we could see ourselves the whole time, which is not the natural way we have conversations with people. We don't see the expressions we make first hand. Zoom demands a self-consciousness that tires us.
In poet Kae Tempest's new book, On Connection, they add another layer to the discussion.
The problem with reflection is that before looking in the mirror, we compose ourselves. So what we see is what we hope to see. Before the furtive glance into the dark glass of a parked car or shop window, we have already made the face of taken the posture that we like to see. We adapt for the shock of observation. To really see ourselves requires a different approach.
To really see those around us requires we lose ourselves as well. I have a hard time attending to a screen full of boxes that remind me of the Brady Bunch or Hollywood Squares. Even with all of the faces, the voices are disembodied and I get a sense (or maybe it is self-protection projection) that we are all doing other things besides really tuning in.
Yes, we are able to have meetings and classes and even worship thanks to the technology. And it feels less than human to me. I have been talking to my cousin who is in ICU in Houston with COVID pneumonia. She is not on a ventilator and is able to text and talk. I find a deeper connection talking on the phone and having to listen to her voice for tone and feeling. Part of it is, I think, I can't see me.
I talk to my friend Kenny in Texas several times a week. We could Zoom, but we never do. We just talk. I can hear more of my friend than I would be able to see on screen, I think because I know his voice. And I can also listen without watching myself listen and wondering, at some level, how I look while I'm listening.
In some of my notes that didn't make my sermon last Sunday, I found this from Rabbi Johnathan Sacks; he was talking about prayer, but his words fit here as well.
If we could only stop asking the question, "How does this affect me?" we would see that we are surrounded by miracles.
Look–I have meandered from attempting to wax philosophical about technology to being surrounded by miracles. Most every one of those miracles have a name and a face and a voice and a laugh and a way they have left a mark on my life. I don't want to see myself. I want to learn, again, how to look and listen–even in the face of technology.
Peace,
Milton