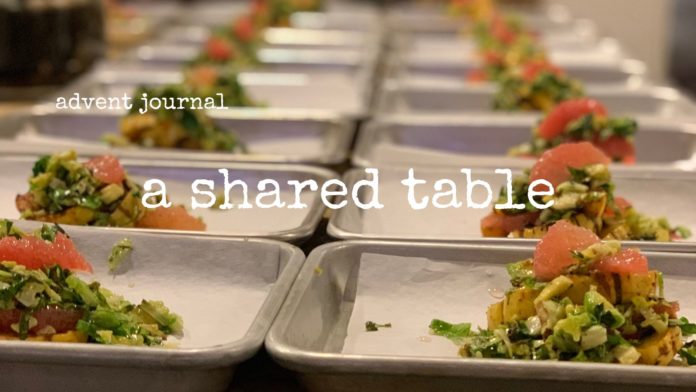 a shared table
It is not news to say I love to cook for people. I have told the story of our Thursday Night Dinners many times. As I have tried to negotiate life without a regular income, two friends from church, Gus and Mike, suggested we host ticketed dinners where I cooked and people paid to be a part of the evening. Mike and Kristin, his wife, hosted one about a month ago. Gus and Sarah, his wife, hosted one tonight. My friend Lisa was my kitchen partner for both of them.
I have called the events "A Shared Table" because the idea is not that I decide what to cook and then people come, but people sing up and then I decide what to cook based on their food needs and preferences. Tonight, for example, several in the group were pescatarians and one was allergic to gluten. Rather than create a menu and then make special dishes, I wanted a menu that was made for everyone. Rather than think about it as what I had to do without, I chose to see the limitations as an opportunity for creativity.
Eighteen people gathered for dinner tonight. I have spent the day in the kitchen, with the occasional check of World Cup scores. I am tired–in a good way–so to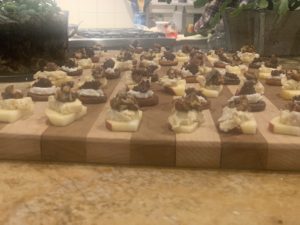 night's post is a photographic journey through the menu for the evening.
We started with appetizers: a smoked trout paté (smoked trout, celery, parsley, capers, lemon juice, crushed red pepper flakes–sorry, no picture), and two pick up appetizers: chai-spiced sweet potato slices with goat cheese and date and olive tapenade, and apple slices with brie and balsamic walnut brittle.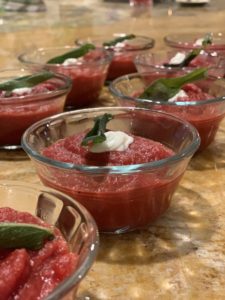 The first course was a roasted beet, carrot, and sweet potato soup that had ginger, garlic, and oranges in it. I topped with a little sour cream and a fried sage leaf.
The second course was a winter sa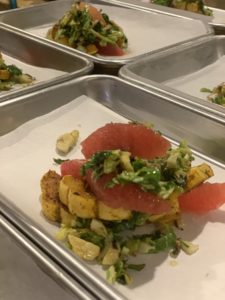 lad of baked delicata squash, ruby red grapefruit slices, Brussels sprouts shavings, and a lemon maple vinaigrette. (Gus made the maple syrup.)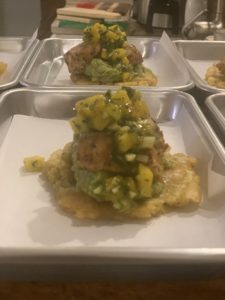 The third course was a tostone (twice-fried green plantain) topped with roasted pineapple guacamole and then a piece of lemon-chili baked cod and a mango chimichurri sauce.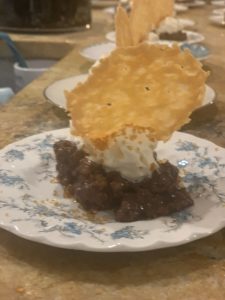 Lastly, we served a chocolate risotto with whipped marsacpone, caramelized sugar, and a parmesan sail.
And then we hung out and talked for two hours after we were finished eating.
It was a good night.
Peace,
Milton
Two things: The e-book version of The Color of Together is 99 cents at Amazon (and other ebooks sellers) for the month of December. Please check it out. Secondly, thanks for reading. My website is free and ad-free because of the support of my readers. If you would like to become a sustaining member, click here. You can also subscribe to my free weekly newsletter, mixing metaphors.
---
Also published on Medium.