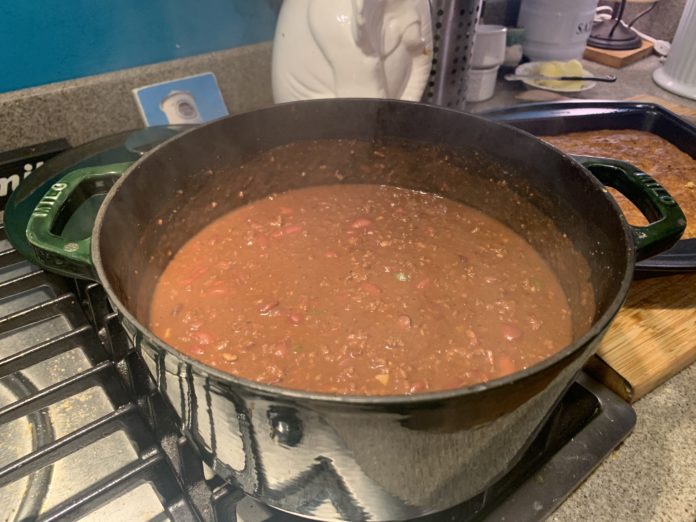 One of the things I learned along the way is curry is not the name of an actual dish but a description of a kind of dish. A curry can be pretty much what you want it to be. I feel the same way about chili. From region to region in this fair land of ours people are adamant about what "real chili" is, but the fact of the matter is chili is a personal expression that grows out of where you are, what you have, and what you like. Though I don't understand vegetarian or turkey chili, that does not mean they cannot lay claim to the name.
I am throwing those pillows, I suppose, because I know I am going to get knocked down by my Texas peeps who will say, "Chili doesn't have beans in it." Yes, it does, or at least it can, particularly when the person I love most (and who digs my chili) is allergic to onions and I have to figure out other ways to add flavor.
The other flavor concern has to do with spices. You will notice below that I haven't put any measurements on the spices. That is because part of the fun of making the chili is playing around with the seasonings. We like the smoky taste of the cumin, so I put at least two teaspoons. How much chili powder and so forth often has to do with how many fresh peppers are already in the mix. If you're not allergic to onions, then I would be dicing those up as well. Perhaps I should say what I have written below is more of a conversation starter than a recipe.
uncle milty's guinness and chocolate chili
1 1/2 pounds ground chuck
4 cloves garlic, minced
2-5 hot peppers (jalapeños, serranos, poblanos), diced
1 tablespoon olive oil
cumin
dark chile powder
sweet paprika
cayenne pepper
salt and pepper
2 15 ounce cans red beans
2 can Guinness Stout or other dark beer
2 oz unsweetened baker's chocolate, chopped
Start with dicing the peppers. Part of the way you control the heat of the chili is by how many seeds you put in. The fewer the seeds, the lower the heat. That said, dice the peppers. Heat the olive oil in a Dutch oven or a deep skillet over medium heat and then add the peppers. Cook until they begin to soften (4-5 minutes) and add the garlic and cook an additional minute. Then add the ground chuck and cook until the meat is well done–about seven minutes. As the meat is cooking, add the cumin, chile powder, paprika, cayenne, salt, pepper, and whatever else you feel like putting in there. Add things gradually and taste as you go.
Drain and rinse the beans and then add them to the meat mixture. When they are heated though, add the two cans of Guinness and bring the pot to a simmer. Let it cook until most of the liquid has cooked away. Once again, how much liquid you want in your chili is up to you. At the every end, lower the heat and add the chocolate and stir until it is melted in. Taste and adjust the seasonings.
I would love to hear your variations on this theme, or what chili means at your house.
Peace,
Milton