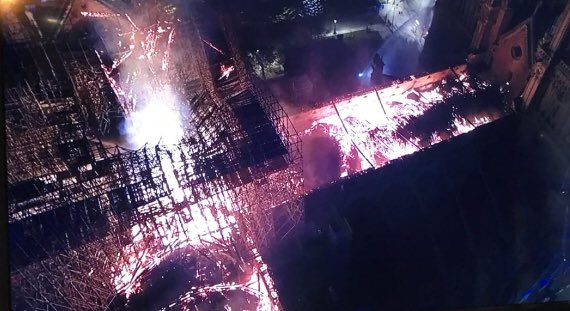 Earlier this afternoon I received this e-mail message from our church office:
Dear Church family,
We have been made aware of a family of four (mother, father, and twin boys age 7) who lost everything in a fire. Below is a list of what is needed for them to rebuild their household.

Linens:
Twin Sheet sets for each boy—probably 2 each
Queen Sheets for the parents
Lots of Towels and washcloths
Bed Pillows
 
Kitchen:
Everything except a microwave and toaster . . . for example
Pots and pans, silverware, cutting board, knives, plates, cups, bowls, mugs
can opener, cooking utensils, spatulas, whisks, large spoons, forks etc
soaps and clean supplies including mops and sponges
 
Furniture
Coffee table, end tables
lamps—floor and table lamps
TV
 
Clothes and shoes:
For the boys:
shoe size 13, clothing 8
shoe size 12, clothing 7
 
Father:
Extra large- for shirts and jackets
40 inch waist, 32 length for pants
Shoe size 10
 
Mother:
shoe size: between 8 and 9
extra large for tops and jackets, etc
Ginger and I spent some time talking about what we had that we could give to help the family start to get back on their feet. It was some time later before I heard about the fire at Notre Dame Cathedral in Paris. I got to go there twice. Once, as a kid coming back from Africa with my parents and once with Ginger soon after we married. Northwest Airlines inaugurated direct Boston to Paris flights with a $99 introductory price, so we went for four days. While we were in the cathedral, we attached ourselves to a tour group. The guide was describing the two huge and stained-glass "rose" windows and commented that the "new one" has installed in the mid-1500s.
I never imagined it wouldn't be there, any more than I never imagine I would turn the corner on to Church Street and find our house burned to the ground. When I try to imagine what it feels like to lose everything in a fire, I think about how it felt when my father died. I wanted to call everyone whose father had died before me and say, "I'm sorry. I meant well. I just had no idea this is how it felt."
My heart aches for Paris and for the people for saw Notre Dame as their church home, which I am sure includes more than just Parisians. I wish I could go through my closet and offer something tangible that would matter the way I can share my belongings with the people here in town.
On another level, there is something lost to the world in the burning of a building that has been here for almost a millennium. It is, both factually and metaphorically, an altar—a stack of sacred stones. The people who are the church that meets there will go on, yes, and it is also not that simple. The family who lost everything will not be the same family in their new space any more than the parishioners at Notre Dame will be the same church going forward. We are defined by the spaces we build around us. We are who we are in context.
Part of our American context was the arrest of a white man in Louisiana who burned three historically black churches in two weeks. The story made bigger news when he was arrested than it did when the churches burned. Even as I write that sentence, I am aware that I know far fewer details about the fires in Louisiana than I do about what is happening in Paris. I read far fewer Facebook posts expressing either grief or outrage. It just didn't matter as much beyond the borders of St. Landry Parish.
The five fires differ only in scale. All of them are stories of families who have lost everything. The resounding truth that burns at me is their losses do not affect us unless we choose for them to do so. Love is an act of will, not an emotional response.
Peace,
Milton